Nigeria Will Succeed But I Cannot Do It Alone -Jonathan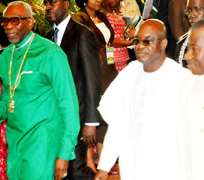 ABUJA, September 30, (THEWILL) - President Goodluck Jonathan on Sunday expressed confidence in the chances of the country to fulfill its potentials but said heaping the entire burden on the president would yield no result.
Jonathan was speaking on the theme, The weapons of our warfare are not carnal, during an interdenominational church service to mark the country's 52nd Independence anniversary.
Although he promised the commitment of his administration to sanitising the electoral process and exterminating corruption, he said he could not bring the desired change alone, and he would need the support of the many "Nehemiahs" all over the country.
"On corruption, Transparency International, which has never spared Nigeria, admitted in its latest rating that Nigeria is second to America in commitment to fight of corruption. God willing we shall overcome it," he said.
"On economic environment, at least 249 new companies, according to the Manufactures of Nigeria, have entered the market. We shall continue to work hard to create jobs for our people. I want to assure Nigerians: we will not sleep until we stablise power in this country.
"Leadership at all levels is collective. One person cannot change a nation. Agreed the leader matters, but he cannot change things alone. All of us, Nigerians, must work together to rebuild our nation. Our men and women will change things in this country. There are so many Nehemiahs in the National Assembly, the Federal Executive Council, our judiciary, our teachers, businessmen and women; and I believe God will use these Nehemiahs to rebuild the country. I can say again that Nigeria will succeed. With your cooperation we shall succeed."
Also speaking at the service, Pastor Ayo Ortisejafor, the president of the Christian Association of Nigeria (CAN), described Boko Haram as a terrorist organisation funded by those desperate to create political space for themselves and divide the country.
Ortisejafor, reviewing the state of the country, lamented that N1.6 trillion is spent on generators annually, that a good number of Nigerians only see electricity cables without having electricity, that beautiful homes dot the landscape of our major cities while many Nigerians don't have a place to lay their heads, that people are surrounded by so much water and yet do not have clean pipe-borne water to drink, that men make incarnations and satanic pronouncements over the nation in shrines and strange altars, all because of the desire for positions at all cost.
"Boko Haram is a terrorist organisation. The activities of Boko Haram are not fuelled by poverty but by a religious fundamentalist ideology. Boko Haram is being funded from within by people who desire to use them to create political space for themselves and funded from without by those who want to see Nigeria divided along religious-ethnic lines," he said.
"Boko Haram is also sustained by media apologist who feed the unsuspecting public with politically incorrect half-truths. As a nation, as a people, if we are serious about getting answers to our national prayers, we must as a matter of urgency, turn from our wicked ways. Let the wickedness of the wicked come to an end.
"We can have a Nigeria we desire, where no one is oppressed, not judged by religion or tribe but by their content. We can have the Nigeria that we desire."
In his remarks, convener of Nigeria Prays and former Head of State, Dr. Yakubu Gowon, spoke on the need to intercede for the country, saying, "The special independence prayers is the gathering of builders and watchmen of our nation, to seek the face of God for the difficulties facing the country and to set the tone for transformation. Together, we can rescue our nation from its present difficulties."
Dignitaries present at the occasion include former president, Chief Olusegun Obasanjo; former vice president, Alex Ekwueme; Senate President, David Mark; the deputy senate president, deputy speaker, ministers, secretary to the government of the federation, chief of staff, chief of defence Staff and so on.