Uduaghan Commissions 1,250 Tricycles As Delta Phases Out Motorcycles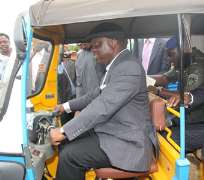 SAN FRANCISCO, September 30, (THEWILL) – Governor of Delta State, Dr. Emmanuel Uduaghan at the weekend in Asaba, commissioned 1,250 tricycles with a warning to politicians not to interfere with the distribution of the tricycles as it was exclusively reserved for commercial motorcycle operators.
He specifically enjoined politicians not to see it as an avenue for providing jobs for their boys, and advised them to go to the open market if interested in empowering their boys with tricycles.
"I like to appeal to the political class not to interfere in the distribution of these tricycles. Do not use it to settle your boys. The tricycles are strictly for the okada riders who are transiting from okada to tricycles," he said.
The governor, who subsidised the cost of the tricycles up to 70 per cent from N400,000 to N150,000 warned operators of the tricycles to restrict themselves to the routes approved for them.
Uduaghan stated that the introduction of the tricycles was to replace and gradually phase out the commercial motorcycles as part of measures to ensure safety in the transport sector and security in the state.
He noted that okada usage has done more harm than good in the state, especially increasing the security challenge of the State adding. "The time has come for us to adopt a comprehensive transport system that would guarantee the safety of lives and property in the State," he added.
He also assured the okada operators that his administration was not leaving them empty-handed, explaining that the present efforts to start from Asaba, Warri and Effurun would be extended to all urban centres of the state.
He further used the opportunity to announce the extension of the ban on okada usage in major cities by one month to 1st November 2012, to give okada operators enough time to prepare for the new policy.
Amidst cheers, the governor announced that the state has procured some boats and is expecting, more which would soon be commissioned for use in the riverine areas of the state.
"We are improving the transport sector and very soon more commercial buses and boats for riverine transportation will be commissioned. I assure you we will not relax until things are better for our people."
Commissioner for Transport, Honorable Benson Igbakpa, in his address, explained that the provision of the tricycles was to return sanity on the roads and ensure the safety of lives and property.
He appealed to okada operators who were the major beneficiaries to maintain and use the tricycles judiciously as it would encourage the state government to purchase more.