PDP Berates ACN Over Sack Of Civil Servants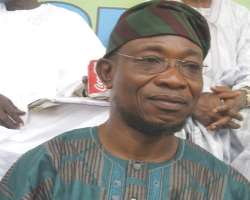 OSUN STATE GOVERNOR, RAUF AREGBESOLA
SAN FRANCISCO, September 29, (THEWILL) - The incessant sack of career civil servants by the Action Congress of Nigeria (ACN) governors in the southwestern states of Osun, Ekiti, Oyo and Ogun is a direct destruction of governance, the Peoples Democratic Party (PDP) in the Southwest said on Saturday.
It observed that Governor of Osun State, Mr. Rauf Aregbesola sacked the remaining six permanent secretaries in the state on Wednesday before appointing 27 new ones.
"Governance is gradually being destroyed by the ACN governors because career civil servants no longer have job security," PDP lamented in a statement issued by its zonal publicity secretary, Hon. Kayode Babade.
"The Permanent Secretaries were supposed to be in office till 31st December this year. The rate at which career civil servants, especially those in the senior cadre like directors and permanent secretaries are being laid off by the ACN governors is worrisome.
"Sacking public servants because they were appointed or promoted by past governments is a direct destruction of governance because governance should be a continuum."
PDP expressed worries that laid-down civil service rules were being jettisoned with the appointment of people who have never served in the state, as permanent secretaries.
"We are compelled to alert the public on the dangerous trend in the ACN-controlled Southwest states where career civil servants are being sacked at will," the statement further read.
"In Ekiti State, over 20 permanent secretaries have been sacked while 23 were forced to resign in Ogun State. Apart from permanent secretaries, accountant general, auditor general, local government directors of administration and treasurers were also sacked in Ekiti State.
"Junior staff are also not being spared by the ACN vindictive governors as over 4,000 have been sacked in Ekiti, over 3,000 sacked in Oyo, and 2,500 sacked in Ogun. It should be recalled that it was during the regime of the ACN National Chairman, Chief Bisi Akande as Osun State governor that close to 4,000 civil servants were sacked!"
The party urged the people to resist the efforts of the ACN governors to bring back "those dark days of Bisi Akande's regime to the southwestern states," saying "it is imperative that they are stopped before they destroy governance in the zone."