Forget The Past, Atiku Advises Nigeria On Independence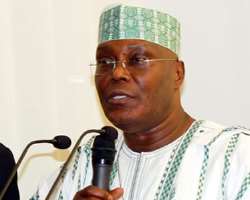 FORMER VICE PRESIDENT ATIKU ABUBAKAR
ABUJA, September 29, (THEWILL) – Ahead of the nation's 52nd anniversary, Nigerians have been advised to avoid obsession with the past, as it may cause them to lose hope in the present and the future.
Former Vice President Atiku Abubakar gave the advice in a goodwill message to Nigerians, released by his media office in Abuja on Saturday.
Atiku noted, with concern, the sense of nostalgia leading Nigerians to give up about the present and the future.
In his review of the country's democratic journey in the past 13 years, the former vice president expressed understanding for the impatience of people with change, owing to previous harsh experiences.
"The democratic process takes some time to get rooted and in the process mistakes were bound to occur. But the beauty of democracy lies in the power to replace leaders who have failed to deliver the goods," he said.
"Good governance and sincerity are essential factors in sustaining people's faith in the system. Democracy is a covenant between the leaders and the people; and once the elected officials deviate, democracy itself will be affected."
He advised elected leaders at all levels to see power as public trust rather than as a means of self-enrichment and suppressing perceived opponents.
"Large-scale corruption is the biggest obstacle to making the lives of the people better, and leaders must demonstrate courage and political will to terminate this national cancer," he added. "The luxurious lifestyles of leaders at the expense of the people could lead to disenchantment with the system."
While maintaining that democracy remains the best system of governance despite its shortcomings from one dispensation to another, he urged leaders to "perceive public office as a call to selfless service rather than an opportunity to line their pockets while poverty crushes the ordinary people."