Jonathan, Atiku, Tambuwal Mourn Adegbite; He's a Bridge-Builder - Jonathan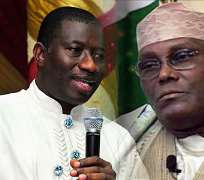 ABUJA, September 29, (THEWILL) - President Goodluck Jonathan has described late Dr. Abdul-Lateef Oladimeji Adegbite as a bridge-builder who reached across ethnic and religious divides to promote peace and unity in the country.
Adegbite, the secretary general of Nigeria Supreme Council for Islamic Affairs, died in Lagos on Friday night, aged 79.
Jonathan, in a press statement issued by Dr. Reuben Abati, his special adviser on media and publicity, observed that Adegbite's wealth of experience in government, private practice and the handling of inter-religious matters would be missed.
"Dr. Adegbite's tenure as Secretary-General of the Nigeria Supreme Council for Islamic Affairs (NSCIA) would forever be remembered for fostering peace and unity among religious groups in the country and for his moderating influence," read a part of the statement.
"He was a devout Muslim leader, distinguished lawyer and academic. The late Seriki Musulumi and Baba Adinni of Egbaland served meritoriously as Chairman of the Presidential Committee on Public Awareness on Security and Civic Responsibilities."
He urged the Adegbite family, the people of Ogun State, the Muslim community and Nigerians to take consolation in the knowledge that the late renowned Muslim leader made indelible contributions to the development of the country. He also prayed that "God Almighty would grant his soul eternal rest."
Also commenting on Adegbite's death, Speaker of the Federal House of Representatives, Hon Aminu Waziri Tambuwal described it as a monumental loss to the Muslim ummah and the country.
He recalled that the deceased lived an exemplary life of service, humility, and dedication, making impacts that would forever be felt by all Nigerians.
"Adegbite was a man who promoted Islam as it should be promoted. His moderate but firm views on issues of education, law, Islamic jurisprudence and social harmony would be greatly missed," Tambuwal stated in a release signed by his special adviser on media and public affairs, Malam Imam Imam, adding that "he ran the NSCIA secretariat and his other endeavours in the most distinguished manner where he left his mark as an astute administrator."
Similarly, former vice president of the country, Alhaji Atiku Abubakar described Adegbite's death as the loss of a voice of unity and moderation.
In a condolence message released by his media office on Saturday in Abuja, he noted that "Adegbite would always be remembered for his untiring efforts to bring unity and understanding between Muslims of the North and South, thereby making them speak with one voice on matters of common interest and the country's larger interest."
He recalled that the late Adegbite, in collaboration with former Sultan Ibrahim Dasuki, had significantly removed the seeming distrust between Muslims of the South and the North.
Atiku also recalled Adegbite's role in dousing tensions in the country at challenging moments, particularly the protests against THISDAY Newspaper following the publication of perceived blasphemous material when Nigeria was about to host the Miss World Beauty Pageant of 2002.
"The late secretary general ended the crisis by advising Muslims to accept THISDAY's well-meaning apology in good faith and stop further protests that could be hijacked by miscreants and overshadow the validity of the complaints by aggrieved Muslims."
While praying "to the Almighty God to forgive the gentle soul of the late Adegbite and give his family the fortitude to bear this heavy loss," he urged the Jama'atul Nasril Islam and the Supreme Council for Islamic Affairs to immortalise him, in recognition of his outstanding role as a voice of unity and moderation.