Southwest PDP Slams Lagos Government, Says N80bn Bond Criminal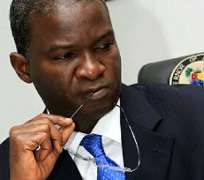 SAN FRANCISCO, September 26, (THEWILL) - The Peoples Democratic Party (PDP) in the Southwest has described the plan of the Action Congress of Nigeria (ACN) government in Lagos State to source N80bn bond from the capital market as not only criminal but a disservice to the people of Lagos State, who are already burdened by the state's huge debt profile.
The party reiterated its warning on the dire consequences of the huge debts of the ACN governments in the region, describing as ridiculous, the plan of a state like Lagos, earning more than N25bn monthly Internally Generated Revenue (IGR) to be "going cap in hands" to borrow N80bn that it can make on its own under four months.
"it appears there is more to this issue of bond that the ACN governors have fallen in love with than meet the eyes; and the Central Bank of Nigeria (CBN), Securities and Exchange Commission (SEC) and other financial clearing houses must do everything possible to checkmate the rate at which the states are obtaining loans," PDP stated in a released signed by its zonal publicity secretary, Hon. Kayode Babade.
PDP expressed suspicion that the bond could be a means of bringing stolen funds into the country, calling on security agencies to take more interest in the bond development.
"In Nigeria today, Lagos State owes the highest debt apart from the federal government. Lagos State was said to have, as at 30th June 2012, accumulated an external debt profile of $517,677,672 (more than half a billion dollars).
"Ironically, Lagos State is the richest State in Nigeria with monthly IGR of over N25bn and most Lagosians are in charge of their daily existence, with the state government responsible for virtually nothing. It should then worry well-meaning people if, in spite of the huge debt being owed and the huge resources available to it, a state like Lagos is going to the capital market to take N80bn bond again.
"Presently, Osun State alone is owing over N120gn, Ekiti is owing over N30bn and is rumoured to be planning to take another N30bn, while Ogun State is on the verge of taking N100bn bond."
PDP warned that if the ACN-controlled states continue taking loans and bonds at this rate, giving promissory notes on multi-billion naira contracts, they will go bankrupt soon.
It then urged "well-meaning Yoruba people to intervene in the affairs of the region by preventing these ACN governors from mortgaging the future of our children through frivolous loans, because most of the loans being obtained now cannot be paid back in the next 50 years."