Otedola Lands Lucrative Power Plant Deal; Elumelu, IBB, Too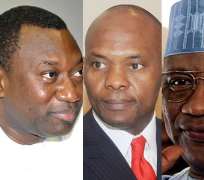 ABUJA, September 25, (THEWILL) – Embattled businessman, Chief Femi Otedola, is the centerpiece of headlines in the ongoing bid for power generation companies under the Federal Government's privatisation programme, as Amperion Power Distribution Limited — a consortium comprising Israeli-based BSG Resource Limited, State Grid Corporation of China and Forte Oil Plc — where he is the major stakeholder as the local partner, has emerged the preferred bidder for the 414mw Geregu Power Plant.
Amperion, the sole bidder for the plant (at $132million), was also in the running for the Ughelli Power Station, but it was unsuccessful, as Transnational Company of Nigeria, Transcorp, another consortium offered $300 million to clinch the bid.
Only last week, Otedola occupied a prominent spot on a long list of high-profile Nigerian businessmen whose companies were barred by the Central Bank of Nigeria (CBN) from receiving credit facilities from banks until they can fully liquidate their debts with the Asset Management Company of Nigeria (AMCON).
Zenon Petroleum, owned by Otedola, is indebted to banks to the tune of N192.4bn, an amount that earns him the ignoble portfolio of the country's biggest debtor, according to the CBN. The ban raises fears on Otedola's ability to pay his share of the bid for the power company.
Transcorp is chaired by former chief executive officer of UBA, Tony Elumelu, whose company, Hiers Holdings, holds the single largest stake in the firm.
In other developments, Chinese Nigeria Power Consortium won the bid for Sapele Power Plant with $201 million while Mainstream Energy Solutions Limited won the contract to manage the Kainji Power Company with an offer of $50.8 million.
North-South Power, known to funded by erstwhile military president, General Ibrahim Babangida, was declared the preferred bidder for the Shiroro Power Plant with an offer of $111.7 million as fixed annual fees and $236.8 million as commencement fees.
Speaking afterwards, Atedo Peterside, Chairman, Technical Committee, National Council of Privatisation (NCP) disclosed that the bid for Afam Power Plant was not opened, after all three bidders failed to meet the stipulated guidelines.