As Yar'adua Signs Amnesty MEND Strikes Again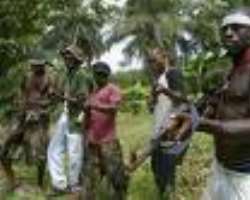 Home News As Yar'adua Signs Amnesty MEND Strikes Again
As Yar'adua Signs Amnesty MEND Strikes Again
Friday, 26 June 2009 08:17 obinna .By Oluremi Olatunde Famous, Abuja
Nigeria's main rebel group launched a fresh attack against an oil installation in the south of the country, just hours after President Umaru Yar'Adua offered an amnesty, the rebels said.
President Umaru Yar'adua yesterday in Abuja signed the amnesty proclamation in fulfilment of the federal government's pledge to grant pardon to militants in the Niger Delta region.
Reports that the signing of the proclamation came a few minutes after the endorsement of the deal by the National Council of State which met yesterday.
Same time the Movement for the Emancipation of the Niger Delta (MEND) militants said they carried out the attack late Thursday in Delta State against the Afremo field operated by local company Sahara after an army raid on a village.
Nigerian troops had launched a "punitive expedition" against the village of Abeti, in Delta state on Thursday evening, just hours after the president's amnesty offer, said a MEND statement.
"Their mission was to seek the homes of perceived militants and raze them to the ground ahead of any amnesty," the statement added.
In response, the militants had blown up a well-head in one of the off-shore oil fields in Delta State.
On Thursday, Yar'Adua offered militants in the oil-rich Niger Delta the amnesty to try to halt attacks on the oil giants there, provided they lay down their arms and give up their campaign.
The militants' activities have badly hit Nigeria's oil output, cutting daily production from around 2.6 million barrels in 2006 to some 1.8 million barrels now.
Additional Agency Reports
|
Article source