Reps Refuse 2013 Budget; Want 2012 Budget Resolved First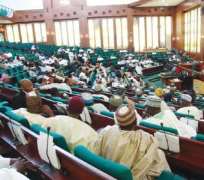 ABUJA, September 20, (THEWILL) - The Federal House of Representatives on Thursday revealed that it has told President Goodluck to suspend his planned presentation of 2013 appropriation bill, pending the determination of issues concerning 2012 budget.
It stated its intention to refuse the 2013 budget proposal until it is satisfied with the implementation of the 2012 version.
President Jonathan was scheduled to present the 2013 budget proposal before a joint session of the National Assembly next week.
Chairman of House Committee on media and public affairs, Hon. Zakari Mohammed, who made this known during a press briefing, conveyed the resolution of the House to engage the Ministries, Departments and Agencies (MDAs) in order to ascertain the level of implementation of the current budget before accepting next year's proposal.
"As I talk to you the finance minister and her team are with the appropriation committee trying to talk about these issues," he said.
"Before we went on break, we made our dislike for the dismal budget implementation clear. We brought out our figures from the figures of the finance minister. At some point, we became vindicated.
"Even by the performance contract signed by Mr. President, if things were okay, he would not have asked his ministers to sign that contract. But he asked them to sign it so that everybody will be on top of his duty.
"As it is now, we are still collating part of what will form a basis of our final decision that we have to go on oversight of MDAs to verify levels reached with capital projects. That way, we will be able to say where we stand as far as that matter is concerned.
"For 2013, until we are through with all these, 2013 might not be a matter in focus because we still have a lot of issues with the present budget. Unless we are convinced that in our opinion that this budget has been well implemented, any other issues may begin to follow. But as far as we are concerned, we have not abandoned that charge."
Meanwhile, the House similarly completed debate on the 2013-15 Medium Term Expenditure Framework (MTEF) and Fiscal Strategy Paper (FSP), committing it to the Joint Committee on Finance, National Planning and Economic Development, and Legislative Budget and Research for further legislative input and appropriate recommendations.
Leading debate on the 2013-2015 MTEF, Majority Leader, Hon. Mulikat Akande-Adeola explained that the focus of the government in the next three years will be security, infrastructure, power, agriculture, water resources, health, education, works, transport, aviation, FCT and the Niger Delta, saying that "though there is every indication that the domestic debt profile is on the increase and has become a source of concern, the federal government, through fiscal consolidation, intends to continue its gradual reduction of domestic debt.: