Vision 2025…What Manner Of Foundation?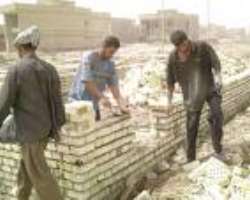 By Cawike Chibuzor, Jos, Plateau
Every building has a foundation, just like all trees have roots. If we must leave an enduring legacy in whatever we are doing come year 2025, then we must give our all in laying a strong foundation.
Foundation laying in business, sports, entertainment and all other areas of life seem to be one of the things an average Nigerian abhors. An average Nigerian can give almost anything to skip the foundation laying stage of any endeavour; we dread this uncelebrated state of human activity.
This seems to be one of the major reasons why most of the things that come out of our country lack depth. We have so much in quantity, but so very little in quality.
At the last count, Nigeria produces the highest number of films in the world, second only to India and export the highest number of footballers in the world, second only to Brazil. Nigeria is the fifth largest producer of crude oil in the world, and we are the most populated black nation in the world. Add to these the fact that Nigeria has produced the highest number of home grown musicians in Africa, who have the potential of wining a major award like ther Grammy, and you ask, why have we not produced the best in the world in any of the aforemtioned areas?
An average Nigerian film producer in Nollywood budgets between two weeks to one month for the production of a block buster, in order to minimize the cost of keeping star characters or location. As if that is not bad enough, the so called star characters shuttle between locations at the same time, to maximize the financial tag on their rating. Compare this to an average American film producer, in Hollywood, who will budget between one to five years for the production of a chart buster, and you understand why it will be difficult for a Nigerian film to win a major global award, if we continue doing things the way we do it now. In some cases, a cast of a film takes more than one year to go and study the culture of a people or the characters are have to play.
In football, we as a nation still wait for our future footballers to prove themselves at a world stage before we draw a plan for them. Most times foreign coaches have better statistics of footballers that grow up in Nigeria than their Nigerian counterparts. No wonder an average Nigerian footballer still reduces his age, in order to have the opportunity of show casing his talent at the world stage via any of the FIFA under age competitions.
In climes where foundations are led for future footballers, Real Madrid Fc already has a plan for the development of Sergio Aguero's son into a future football legend. In case you don't know, this baby Aguero from Diego Maradona's daughter is less than 6months old, yet there is a already a plan on ground to turn him into a future football star.
Now, imagine what Real Madrid will do if they see a six year old or 10year old boy who actually possesses football skills. For football clubs in Europe, feeder teams and football schools are not fads, but enduring legacies of excellence. When a footballers' talent is discovered before he is 15years, by 22years, he is already the best in the world.
If Nigeria had a good scouting system on ground before now, we would have had a world best footballer from any of Austin Jay Jay Okocha, Julius Aghahowa, Sunday Oliseh, Emmanuel Amuneke, Finidi George or Kanu Nwankwo. A Nigerian player in the caliber of Jay Jay Okocha for example dabbled into football by providence because he found himself in Germany on holidays, had he stayed back in Nigeria, we might not have witnessed any of his mesmerizing skills. He also got to his peak at a very old age, because he was not discovered on time. With little or no foundation as regards the early discovery and nurturing of future stars, many Jay Jay's will not play football, let alone be the best in the world.
One of the reasons why many people who want to get to the very top abhore very deep foundations is because a foundation is synonymous with obscurity. When you pass a building site at the foundation level, it will seem as if nothing is happening. In Nigeria, no one seem to celeberate you when you invest much in laying the foundation for any endeavour, you are only celeberated when you have a result, irrespective of the means of the achievement, that way mediocres are recognized.
As we count down to 2025, let us endeavour to remind the younger genereation that if you dare to invest your time and other resources in laying a foundation today in any area of human endeavour, you will be ceberated tomorrow,
Will you join the league?

08035971481, [email protected]
|
Article source