DANCE WITH SEED MONEY TO CELEBRATE NIGERIA's DEMISE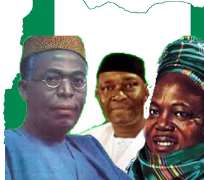 If you do not know where you are coming from and how you get here, you may not know how to correct your step and where you are going. In order to understand how Nigeria got these types of failed politicians leading us, we have to realize they were loafers that depended on governments all their life. Their mission was different from those leaders that got us Independence. They never worked for or earned a kobo.
It started to go wrong after Gen. Gowon became complacent and reneged on handing over power to civilians. He had to prop himself up with both military and civilian guides that would never question his legitimacy. These civilians, after the resignation of Chief Awolowo encouraged him to rule indefinitely. Palace coup eased in his colleagues. We went downhill from then on. It got so worse, we now think Gowon's time was the best.
Military graduates and civilians depending on only generous scholarship were pampered and never learned to make a clean living. In fairness, the most successful ones in those days stayed away from politics since only a few were greedy. Who would believe that the cohorts of some of the successful ones never learned and that they were those that later misruled the Country. Of course they had help from ambitious military loafers.
It is not unusual to celebrate death after a well spent life, even if young in some cultures but not a worthless disintegrating life. No matter how bad a country is, the people may be one of the most productive; but ruled and mismanaged by egocentric leaders. It is becoming obvious to most people that despite lip service old warriors pay that they are willing to sacrifice their lives for the Country, they mean they want to bleed it cold.
We told our graduates that their initial income was seed money to save for good return, invest in some resources that would appreciate or enhanced their ability to grow. In the case of lucky young women and men with such offers, it was their biggest treasure. By the time they got married, they had a cushion to rely on. When retired or if fired before then, there was something to fall back on. The same was true of our country.
Loyalty and duty of a good citizen to a dear country is missing these days in some countries and ours is a good example. It is difficult to set any income aside for the rainy day, pension, oil subsidy, housing contribution etc. Raiders would be watching it like hawks in order to steal it. Put as many people as possible for check and balance, they would share it amongst themselves. Our loyalty is to money not people we serve.
The way Nigerian politicians celebrate with our seed money, you will think Africa is paved with gold, diamond, milk and honey. You are not far from right, Africa is loaded not only with gold, diamond, milk and honey but also with skillful human resources that have excelled everywhere else but in Africa. There is this great disconnect from reality in putting resources and people together by competent and long sighted administrators.
Most of the local university graduates were very proud of their schools and never feel they had to compete with foreign graduates. They were so proud, they had to prove their worth to their parents that sent them to school as cocoa, groundnuts farmers and coal miners. Many also shunned politics for better jobs. They open shops as doctors, lawyers, accountants and took special pride in the noblest profession as teachers.
Ipa npa ra e, olohun npa ja! Those fleecing the Country like a dog are actually fleecing themselves to death, slowly but surely. No matter what they put in place for their sons and daughters and their following generation they swear will never be poor again, will bear frustration when they are kicked out of other countries. Some of them forgot what happened after the civil war when their children could no longer get money from home.
Those children that were living above their means because they got steady stipend from home, lived big with friends. They had the latest cars, mustang and the most beautiful girlfriends in their crowd. While most of us were living in rooming houses, they were living in apartments. As soon as Government scholarships dried up, their friends left and they started doubling up with those of us in rooming houses.
Many of these students had no choice but to look for gburu. Hey, no one was so kind to feed others for free. The most unfortunate part was that some of them could not combine school and work. They either work to feed themselves or rely on money from home to go to school. Those that became successful learned important lessons. The rest of us that finished school got recruited back home. That was 70s and early 80s.
When the President said he would pay any price for Nigeria to work, he meant well. He threw money at election to buy the best democracy there is. The problem is, Nigeria throws any amount of money to solve problem thinking that the more money spent, the better the result. It is the wrong mentality, which is why we hardly get expected results. In spite of all the money spent, we are moving backwards not forward.
Therefore, when we talk about paying any price, we do not mean personal or individual sacrifice with our blood or our life, we mean money as if it is unlimited. Foreign services and contractors are quite aware of our taste and needs, waiting for our orders. Anyone that has seen ThisDay Newspaper Extravaganza with the invitation of foreign heads of state's million dollars payment just to appear while workers' salaries go unpaid, knows.
Usually awards and accolades are reserved for heroes and people whose deeds are worthy of emulation for others to learn from. No African is more obsequious when it comes to getting awards as Nigerian politicians and their fellow brats for literally killing our Country. These Nigerians will go anywhere, at any length and at any cost to be congratulated for personal achievement in sinking Africa's most promising ship.
Nowhere is it more obvious than Nigeria where they wear their ignoble names like a badge of honor dance to it with praise singers and the Government dishes out awards to them for jobs well done. The job of leaving their Country divided and worse than they met it is their joy. If nobody tapped them on the shoulder, it did not mean nobody cares.
Written By Farouk Martins Aresa

Disclaimer:

"The views/contents expressed in this article are the sole responsibility of

thewillnigeria.com

and do not necessarily reflect those of The Nigerian Voice. The Nigerian Voice will not be responsible or liable for any inaccurate or incorrect statements contained in this article."
Articles by thewillnigeria.com