Lagos-Kano Rail Line To Reopen End Of October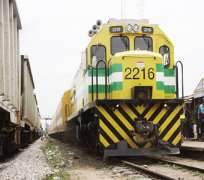 LAGOS, September 12, (THEWILL) - After a two-year suspension of rail transport activities by the Nigerian Railway Corporation (NRC), the Lagos-Kano railway line is set to resume full operations in another six weeks.
The NRC was forced to suspend rail operations on the busy commercial route, after the washing away of the crucial Akerri Bridge linking the North and Southern Nigeria by flash floods.
But after a rehabilitation financed by the Subsidy Reinvestment and Empowerment Programme (SURE-P) Committee, the NRC has announced that rail operations would commence in six weeks when the Akerri Bridge is due to be completed.
Speaking after a weeklong inspection tour of ongoing projects in train stations across the country, SURE-P Committee member and Sub-committee convener on Railways, Mr. Chike Okogwu, who led a team of inspectors drawn from a pool of professional engineers of Nigeria Railway Corporation (NRC) and Project Implementation Unit (PIU) of the Federal Ministry of Transport, explained that the urgency to get revive railway transport is in line with President Goodluck Jonathan's transformation agenda.
"Having been mandated by the Presidency to get the railway back on track, SURE-P injected massive funds into the otherwise crumbling transport sector and ensured that work commenced almost immediately in a dozen sites across the country," he said.
"The work done so far, particularly on Akerri Bridge that has been the major challenge in rail transport between the commercial cities of Lagos and Kano, is satisfactory. Today, I am glad to announce to Nigerians that the Akerri Bridge end has been tackled.
"We want to thank the Federal Government for intervening in the Akerri Bridge. Work has been going on and the contractors needed to be paid to energize work there. About four weeks ago, there was a minor challenge at Bridge 73. We are assuring Nigerians that in the next six weeks, the bridge would have been done and then the lines will open up and goods and passengers will move freely."
Also speaking, Chairman of PIU, Engr Eric Onyeiwu described the verification exercise as having enabled the team to evaluate work-in-progress at the various sites in order to make proper decisions.
Although PIU members were dissatisfied with the slow pace of work by some of the contractors on site, particularly in Asa community in Aba, contracted to Esser Nigeria Ltd, they unanimously expressed delight in the overall performance of the contractors.
"Many of the contractors are performing well. But we also have issues to sort out with a few of them. We are expecting NRC to give us more detailed information about those areas we are not contented with," Onyeiwu said.
"There is a noticeable improvement in the quality of work done, improvement by the commitment of NRC, improvement by the contractors and others involved in the projects."
On his part, Engineer Ahmadu, the director of Civil Engineering Department of NRC, thanked SURE-P for the prompt intervention, saying "SURE-P's intervention is excellent and timely because all the projects were doomed for disaster due to inadequate funding. But with SURE-P's intervention, we are certain that all these contracts will be executed."