N850m UBEC Scandal: Deputy ES Suspended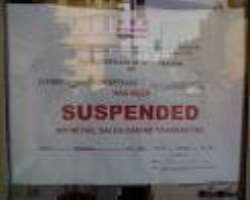 By Deji Wale Fadeyi, Abuja
Following her alleged involvement in the N850 million contract award scandal to Intermarkets Nigeria Ltd for the supply of plastic sitting materials for selected schools in the country in 2005, the Deputy Executive Secretary of the Universal Basic Education Commission, Prof. (Mrs) B.O Sokan has been suspended from the commission.
In a press release issued and signed by the Public Relations Officer of UBEC, David Apeh, Prof. Sokan's suspension follows approval yesterday by the Minister of Education; Dr. Sam O. Egwu for her to be suspended.
The suspension according to the release is with immediate effect even as it stated that the UBEC Governing Board at its Emergency Meeting of 21st May, 2009 approved the suspension of the following officers with effect from 5th May, 2009, for similar charges. Dr. Andrew N. Ekpunobi, Director, Planning & Information Management, Arch. M. M. Muftwang, Deputy Director, Physical Planning and Mr. Mike Aule, Chief Accountant.
|
Article source