Tukur Laments Over Exit Of PDP Members, Electoral Defeats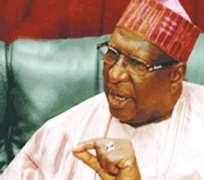 … Moves To Unite Factions

SAN FRANCISCO, September 10, (THEWILL) – The National Chairman of the ruling Peoples Democratic Party (PDP) Monday expressed dismay over the alarming quarrels and departure of members of the party to other political parties, saying that for the PDP to remain strong it must unite all factions of the party and keep members in the fold.
The chairman was particularly irked about the quarrel amongst party members in Kano state and mandated an 8-member committee headed by former minister, Alabo Graham Douglas to reconcile all factions within the party in the state before the next round of elections.
At the inauguration of the committee, Tukur blamed the defeat of the party in some states in the last general elections on quarrels amongst party members saying, "We can not continue this way."
The PDP in spite of its internal troubles however still controls a large number of states and holds a huge advantage in the National Assembly over other political parties.