Armed Forces, Custodian Of Nigerian Military Might - Mark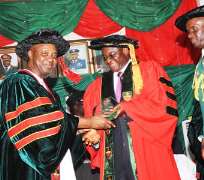 ABUJA, September 09, (THEWILL) - The Armed Forces must always remember its sacred responsibility as the custodian of the military might of the Nigerian People and as the ultimate defender of the country's territorial integrity and independence against all adversaries, president of the Senate, David Mark said at the weekend.
To effectively fulfill these responsibilities, Mark tasked the leadership of the Military to double its training of personnel, upgrade of equipment and improvement of research in tandem with global development of military capabilities.
These were contained in his acceptance remark after his conferment with an honorary Doctorate Degree of Political Science by his alma mater, the Nigerian Defence Academy (NDA), Kaduna at the weekend.
Also at the ceremony, the president of the Republic of Liberia, Mrs. Ellen Johnson Sirleaf was awarded Doctorate Degree of Management Science while former secretary-general of Commonwealth, Chief Emeka Anyaoku received an honourary Doctorate Degree of Letters.
"Nigeria is passing through security challenges but these challenges are indeed not insurmountable if we collectively come together to confront it. It could be seen as a passing phase in the nation's tortuous journey to achieving an enduring democracy," said Mark, who graduated from the NDA in 1969/70 and belonged to the 3rd Regular Course.
"We recognise the fact that the Armed Forces have played significant role in maintaining peace and order in the present dispensation and must be encouraged to do more by way of capacity building and upgrade of its equipment."
He enjoined the graduates to join in the new push to rebrand the Nigerian Armed Forces as a modern corps, saying that they must always consider it their responsibility and an honour to their fatherland to lay a solid foundation upon which future generation of offices can build.
"The National Assembly particularly recognises the strategic role that the Military has been playing in sustaining the present democratic order and we shall continue to provide support for the development of our Armed Forces to guarantee your welfare and enhance professionalism," he added.
Recalling his days as a cadet officer at the NDA, Mark said, "I have always counted myself privileged and eternally grateful to God to have passed through this foremost military academy that prepared me to face the vicissitudes of life and made me what I am today. This honour, therefore, has a special place in my heart and I will cherish it for the rest of my life."