I Month After: STV Presenter, Yvonne Vixen Threatens Oriental Hotel With War Over Missing Car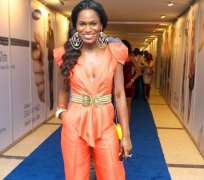 Yvonne Vixen, who is a reporter with popular Lagos TV station, Silverbird Television (STV) is yet to get over her car that was reported missing at the premises of Oriental Hotel, Lekki, Lagos on Saturday, July 28, 2012 .
Yvonne took her war against the hotel to social networking site 'Twitter when she tweeted series of tweets regarding the missing car.
She tweeted; "I'm ready for WAR. U can't take what belongs to me and expect me to stay Quiet for too long... They don't want to be civil, then I'll go STREET!
"Anyone who knows them should tell 'em sh*t is about to get CRAY. I'm fed up! How the hell should ppl feel safe in an establishment of that magnitude. U still my property 2day, what will happen next time? Get raped in d parking lot? *steal I meant.
"Trouble sleep yanga wake am... u don't mess with a wounded lioness. D hospitality business is meant 2 ensure safety& comfort. Hello!! What's wrong with dis picture???
"I didn't knw THEY had d jumanji option on their list of hospitality services. "Press 1 if u want ur belongings to disappear" #kmt.
"No, but seriously! If you were me right now, what would u do? Jeeez! Jesus save me from blowing the lid off this ish! #LordHaveMercy.
"We should create our own version of the Justice League... Eliminate all the Suckaz of the World!!!! #wooooooosah! Ok vixen.. down girl!! ... Done venting."
The management of the hotel could not be reached as at press time to comment on the issue.
>

Click the link below to go to...
Eedris Abdulkareem Fires Obasanjo Back, Calls Him Boko Haram Member, Mugu
Alleged Husband Snatching Saga: Foluke Daramola Denies Breaking Lagos Socialite, Kayode Salako's Marriage**May Marry Kayode Soon
D'Banj Dumps Genevieve For IBB's In-Law's Daughter? In Rumoured Romance With IBB's Son's First Wife's Sister
Omotola's Hubby is the bedrock of whatever she is today ---Princess Chineke
Win Lots Of Gifts From Nollywoodgists.com On Joli-Joli Avenue On Eko 89.7FM
Sexy Upcoming Actress Dies Mysteriously
Days After Cynthia Osokogu's Alleged Death By Facebook Friends, Another Victim Shares Near-Death Experience
Uche Jombo Makes First Public Appearance With Hubby, Kenny Rodriguez After Marriage