Belgore Bemoans Constant Constitutional Amendments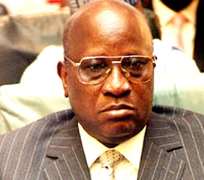 ...Says Nigeria Won't Break Up
ABUJA, September 06, (THEWILL) – Former Chief Justice of Nigeria (CJN), Justice Alfa Belgore has condemned periodic amendments of the Nigerian Constitution, saying it is the most battered in the world.
He also faulted the modeling of the 1999 Constitution after America's without due consideration to the varying histories of both countries.
Belgore was speaking at the first Presidential Retreat for Civil Society Organisations and Professional groups held at the Banquet Hall of the State House, Abuja, themed, Towards A People's Constitution.
"In my observation, I have never come across any constitution of any country that has been constantly battered as the Nigerian constitution," he said. "I keep on asking if there is any Constitution that can survive for three years in Nigeria without being constantly criticised."
He noted that despite the country's endowment with human and natural resources, constant internal instability in governance remains its greatest problem.
"Since our independence in 1960, we have moved from parliamentary system to various military dictatorships, and then to presidential system. Some people believe that parliamentary system is the best because it is cohesive in the sense that the president is not executive, and the power of governance is always with the prime minister, who, with his ministers, is a member of the parliament.
"The presidential system, however, makes the president the chief executive with his ministers not being members of the parliament. In some cases, the ministers contested for parliamentary election and failed. However, the greatest fault in presidential system is the expense. Apart from unelected ministers, there are so many special assistants. The country seems to be mimicking countries like United States in this arrangement. We seem to be the only country in the Commonwealth of Nations that attempt to copy the United States system.
"However, we do not have to follow the Americans 100 per cent. The country can make amends to sustain the system to make it economically viable and above all unite the country to greater heights. What this country had suffered from is not economic mismanagement but political instability. Our poverty level is caused by instability. We must have a constitution to allow for stability."
Belgore also expressed optimism in the continued compactness of the country, saying it would not break up as being predicted in some quarters.
"Many Nigerians cry foul and sometimes predict the break-up of the country. I assure you, Nigeria cannot break- up. Attempt to do so can only bring unfortunate bloodshed.
"Pessimists have been predicting the break-up of Nigeria. Some even say in 2015, Nigeria will disappear. I can understand their fear. At little under 200million people, certainly, Nigeria is a great country but those envious of what future Nigeria can be always try to destabilise us. They have succeeded to a certain extent.
"Nigeria is blessed with many things: very good weather, very good rainfall condition with a lot of water even in semi-desert. The soil is very good, we have a lot of minerals; many that have been discovered have not yet been tapped.
"What this country had suffered from is not economic mismanagement but political instability. Our poverty level is caused by instability. We must have a Constitution to allow for stability. If there is stability, there is enough on the ground for the happiness and unity of Nigerians wherever they are and we shall be more stable, united and be able to make the country great."
Also speaking at the retreat, President Goodluck Jonathan disclosed his intention to forward the report of Justice Belgore's committee on the review of the Constitution to the National Assembly.
He urged participants at the retreat to make valuable contributions to the review process, saying, "You have been invited to this retreat because you are close to the people and understand their fears and desires. We cannot complete the constitutional review process until we hear all the voices of the people of Nigeria. You have been invited to this retreat because I believe that you share with me a passion for a Nigeria that is built on justice, equal opportunity, responsibility and a deep sense of community."