Nigeria's Second Woman Supreme Court Justice Loses Mum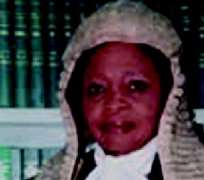 ABUJA, August 31, (THEWILL) - Chief Mrs. Olayosade Akinlade-Fajemirokun, mother of Justice Olufunlola Oyelola Adekeye — the second Nigerian woman to become a justice of the Supreme Court— is dead.
Madam Akinlade-Fajemorokun died at the ripe old age of 92 years.
The pioneer educationist in the old Ondo State studied at the St. Paul's Primary School Igbaraoke, and then the Queens College, Lagos, and Obafemi Awolowo University, then known as the University of Ile-Ife,.
Her teaching career spanned various schools in Ondo State, Edo State and Oyo State, where she retired as head teacher of St Peter's School, Aremo, Ibadan, in 1984.
The late educationist, who subsequently devoted her life to community service and Christian work, is survived by many children, including Justice Adekeye.