Reps Summon CBN Governor Over N5000 Note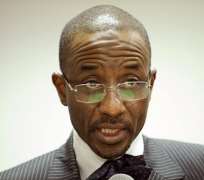 ABUJA, August 29, (THEWILL) - The Federal House of Representatives on Wednesday summoned governor of Central Bank of Nigeria (CBN), Malam Sanusi Lamido Sanusi over the proposed introduction of N5000 denomination in the nation's currency.
Disclosing this at a press briefing in Abuja, chairman of the House Committee on Banking and Currency, Hon. Jones Chukwudi Onyereri, said the CBN governor is expected to enlighten the House on the necessity of the N5000 note in relation to the bank's cashless policy.
"The House committee will invite the management of the Central Bank in an effort to know whether it is still pursuing the cashless policy. And if it is, how does this higher currency note complement the cashless policy? Or if it contradicts the cashless policy, what are the next steps?" he said.
"The Committee on Banking and Currency has been briefed extensively on the cashless and wireless payment system policy of the CBN, which we understand is designed to reduce the actual cash in circulation while not affecting the volume of money available to citizens. This simply means cashless policy is not a monetary policy instrument used to reduce cash in circulation, as it leaves the cash available in the system unaffected while at the same time substantially reducing the volumes of currency in circulation by converting currency to electronic payment codes and systems.
"This is the direction the Central Bank has been following. The understanding is that carrying less cash is in every body's interest as it reduces the risk, it reduces the money spent on printing currency and it reduces the money spent on movement of currency as well as on security and safe guards for large consignments of currency."
He said the committee understands that the cashless policy encourages payment with a credit card, debit card or mobile money, which means that citizens will avoid the high risk of travelling with currency for large ticket transactions.
He added that the committee summoned Sanusi in fulfillment of its mandate to engage the Executive of policies with direct implications on the lives of Nigerians.
"Whereas we fully respect the separation of powers enshrined in the Constitution and the Central Bank's autonomy, as provided by the Central Bank Act 2007 as amended, as well as the Banking and Other Financial Institutions Act, we have a responsibility to the Nigerian people to engage the Executive branch on issues that may have a farreaching effect on the national economy, and affect the day to day lives of the ordinary Nigerian," he stated.
"As representatives of the people, with particular oversight responsibility over the banking industry, we have set up the processes to immediately address the matter. In doing so, we will rely strictly on the provisions of the Constitution of the Federal Republic of Nigeria, the Central Bank Nigeria Act of 2007 as amended, the Banking and Other Financial Institution Act, as well as other requisite legal and regulatory instruments."
Notwithstanding the overwhelming public criticism that has greeted CBN's announcement, Onyeyeri promised that the committee would "keep an open mind while engaging the CBN management, to have a full picture and understanding of the thinking at the CBN and the reasons for this action."