Curbing Thuggery, Hooliganism In The 2011 Elections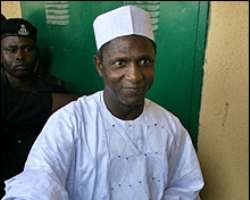 By Kabiru Danladi Lawanti, Abuja
Kalare is a brand of Hausa word referring to a group of people, mostly youth, between the ages of 8 and 35 years. Some of who are in secondary schools, while others are school drop-outs. Such youth are used by politicians during campaigns and elections in some sections of Northern Nigeria to intimidate voters and political opponents into accepting the position of their sponsors. They are violent and mostly drug addicts. Similar youth groups also exist in other states of the federation and they are found in other states of the federation and they are usually referred to as thugs. They are found almost in every state of the federation with different names but use the same tactics in achieving their goals. They are known as 'yan daba in Kano, Kawaye or 'yan mage in Kaduna and Katsina, ecomog in Borno, sara suka in Bauchi, area boys in Lagos etc.
These group of young people are usually lured by desperate politicians, who have nothing to offer the electorate and want to attain power by all means. And as soon as they attain power they usually dump them. To make ends meet, these young people resort to all forms of crimes, ranging from petty stealing, rape and in some instances even armed robbery or in the case of Niger-Delta kidnapping, oil bunkering and rebellion. In some cases even their sponsors are not spared, it was alleged that in one state of the North, a commissioner had to resort to using a gun to keep them away from his office. And even international organisation are not spared, as it was alleged UNICEF, also in that state, at a time had to pay the sum of thirty thousand naira to these miscreants, before they were allowed to carry a programme sometimes in 2006.
These hooligans and their sponsors are not only threat to democracy, but also to the survival of the country in general. Two things are responsible for this trend. First, our attitude of winner-takes all politics and the social situation the youth find themselves in which they are not prepared. It is disheartening to see our youth, who are supposedly the leaders of tomorrow to find themselves in a situation where they will not help themselves, their family or their communities. In fact, they have become a danger to the society in which they live. Little effort has been made so far to address the root causes of the situation. The worst is the attitude of some of our politicians, who are, most times even worst than these boys. The situation is more pathetic in the states, where wanton disregard of ethics and values of democracy is perpetrated.
The Kalare phenomenon in most states is used first by the opposition to check the winning streak of an incumbent who in most cases has a relative advantage of having the state machinery in his hands. Whether in Kano, which has a long history of political thuggery to the events in Gombe between Goje and Hashidu in 2003/07, the sara-suka phenomenon in Bauchi, all have origin from the efforts of an opposition to defeat the incumbent governor.
Historically the yan akusa, now called yan daba or banga, in Kano were used in the First Republic by the Northern Peoples' Congress (NPC) to check the winning streak of NEPU. And today as it spreads to other states, the same reason that saw the beginning of yan akusa in Kano could be said to be the reason why the sara-suka groups were formed for instance in Bauchi, or Kalare in Gombe. The sara suka in Bauchi were formed by the supporters of Isa Yuguda to counter Governor Muazu's use of government machinery to stop Yuguda from contesting. Governor Isa Yuguda, however, claims he inherited the sara-suka problem from the previous regime.
The story is the same in Borno state. Ecomog groups in Borno were formed by the supporters of Ali Modu Sherrif to counter the incumbent governor's opposition to Sherriff's bid for the governorship of the state. The activities of the Kalare groups in Gombe became manifest when opposition PDP wanted to wrest power from the incumbent ANPP in 2003. In fact, it was a tug of war between the two groups in 2003/07.
We all know that the country and its people have to take new direction if we want to build a nation that will be counted among the 20 most industrial countries of the world. It is time for 'change', and what will inspire us more is the fact that it was done elsewhere, first in the United States where impossible becomes possible. A Blackman – a son of an African becomes the first to lead the powerful nation on earth. No body was injured, killed or lost his limb; as his campaign trail sailed through that vast country. He sought no support from the hippies or notorious gangs of the East or West-Coast. He had a message and he wisely and persuasively convinced the American electorates that he was the best of all the candidates that contested in 2008. Mr Barrack Obama succeeded in defeating White-Anglo-Saxon-Protestant. We have no reason not to emulate that.
Ghana has done it and an opposition candidate was able to defeat a ruling party, without the use of violence. If it can be done somewhere, why not in Nigeria? Are we trying to tell the world that we are the greediest people on earth? It is time for peace loving Nigerians to come out publicly and say enough is enough and design blue-print for purposive and idealistic politics in which a party and political candidate present their agenda based on the need of the electorates. Nigerians should be given reasons as to why they should choose candidate A instead of B. They should also be allowed to participate fully in the selection and election of their leaders at the party and general elections level. Parties have to do away with the idea of choosing a candidate based on consensus. This violates the principles of participatory democracy. Which in many cases lead desperate politicians to opt for violence.
May be it is time for all Nigerians – within and outside the country to fully participate in the democratic process. Although some people are of the opinion that the electoral system needs to be reformed, yours sincerely believes electoral reform is a waste of time, from 1912 to date we have more than 10 constitutional amendments but tell me what has change in our lives? What we need is general attitudinal change, a constitution is just a document that can be violated or manipulated by anybody to satisfy his whims and caprices especially in power as we saw with Obasanjo in 2003/07.
Only politicians who have nothing to offer the electorates employ thugs to help them attain political position. The issue of denouncing political violence by political parties and candidates or just declaration by authorities or security agencies that there will be no tolerance for political violence is waste of time, because we have seen that in 1999/2003/07, does that change anything? In fact it even gave some politicians more confidence to carry out their activities with impunity.
What we need is active participation of all Nigerians in the political process. This will increase the number of good people in the process thereby crippling the activities of bad ones. With time the good ones will be able to sanitize the whole process. That might be temporary solution but for now might the best.
Kabiru Danladi Lawanti,
Area 11, Garki,
Abuja.
08035150369, 08054546764, 08099282770
|
Article source