Fraud Allegations Rock Military Pension Board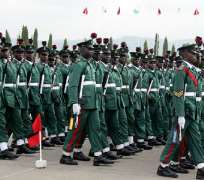 SAN FRANCISCO, August 25, (THEWILL) – With the rumpus generated by the fraudulent management of several billions of naira belonging to the Police Pension Fund still to abate, the Military Pension Board is the latest to face allegations of large-scale fraud and embezzlement of funds.
The allegation is part of a petition against the Board, signed by two pensioners under the names, Pensioners' interest Group.
The petition, in full, reads:
Pensioners' Interests Group
74, Akporarie Nelson Street,
Makurdi,
Benue State.
Email: [email protected]
20th August 2012.
Dear Sir/Ma,
PETITION:MASSIVE FRAUD AT MILITARY PENSION BOARD, ABUJA: REQUEST FOR THE INVESTIGATION OF ACTIVITIES AND ROLE OF ONE ADEBOWALE GOMES
.
Let us start by commending your steady commitment to the crusade and activities of full scales investigations into the activities of ministries, departments, corporate bodies, boards, commission, institutions, parastatals, and other agencies.
We write to bring to your notice and urgent action the massive fraud being perpetuated by Mr. Adebowale Gomes (a staff of Sidmach Technologies Ltd attached to Military Pension Board, Abuja) through issue of 'ghost' pensioners ongoing for many years now and possibly with the knowledge of those approving the payments.
At this point in time, when we are struggling to enlighten Nigerian employees on the need for pension savings for better old age and to recover from the shocking revelation of the Pension Scam in Police and Civil service, some ICT thieves and pen-robbers are busy siphoning the pension funds of innocent Nigerians.
The rot continues unchecked in the Military Pension Board, Abuja despite a yearly verification exercise for pensioner by the Military Pension Board (MPB) under the Ministry of Defence. The situation in MPB is far from the bold claims and assertion of the Chairman of Military Pension Board in recent times.
In line with this administration's zero tolerance for corruption and our decision to stamp out corruption in Military and Para-Military Pensions, we conducted secret investigations, which somehow endangered our lifes, family, and works. And it was revealed that this Mr. Adebowale Gomes is fetish, dangerous, and a womanizer that travels to almost every country, lavishing his stolen money. Please investigate his passport & traveling document to confirm.
It was discovered that Mr. Gomes who had no car, no house, no company and with less than N200,000 cash and bank balance when he got to Abuja and was staying with his wife in her personal house less than three years ago, now has many properties and vehicles some of which are listed as follows:
a) A house and a Cybercafe in Gwarimpa, Abuja
b) An estate comprising of one-bedroom 10 nos., two-bedroom bungalows 3nos., and security post in Lokoja, Kogi State at value of N60m
c) A five-bedroom Duplex with Boys quarter situated by Estate, off Apo Road, Galadimawa, Abuja valued at N50m
d) A four-bedroom bungalow (2 numbers) at Sun City Estate, Abuja
e) 2nos four-bedroom semi-detached bungalow in Sunnyville Estate, Abuja
f) 6 nos three-bedroom bungalow in Gwagwalada, Abuja
g) 3 nos Cornershops on University Road, Gwagwalada. Each valued at about N5m, and one of them housing his Seanet Cybercafe Niger. Ltd worth over N20m in values
h) Other various landed properties at Gwagwalada, Kabusha, Kwali, Lugbe in FCT
i) A fleet of SUVs and Salon cars, including a 2007 GX Lexus, 2010 Infiniti M56, 2010 Toyota Camry, 2006 Mercedes C320, 2005 Toyota Avensis, 2002 Honda Accord, 2010 Toyota Hiaice Bus etc, Two Power Bikes
j) Bank accounts (savings, current, fixed and domiciliary) domiciled at Skye Bank, Zenith Bank, and GT Bank in personal, mother's, children, wives' (He has three) and corporate names
k) A multi-million naira supermarket in Abuja
Further investigation revealed that Gomes has cronies like Mary Gambo, Adelabu Taoreed, Muazu Usm, accounts and pension department officers, and some senior officers.
They together prepare and keep secret lists of fictitious names and account details and then ensure monthly payment mandates/instructions that were used to make all the fraudulent payments and collections, thereby siphoning millions monthly from the Military Pension Fund.
They programme fictitious names and, with the aid of fraudulent bank officers, collect cash or transfer pensioners' money into other fictitious private accounts as conduit pipe. He defrauds the MPB through corporate and human conduit. Some of the conduits are companies such as Seanets Komputronics Ltd and Al-waduud Vents.
He also has two lawyers, who handle legal matters and business transactions for him. In addition, we found that one of them, his lawyer, help hi-m falsify documents at the Corporate Affairs Commission (CAC) to register his company and alter information to suit their corrupt dealings.
We are aware of the criminalisation of illicit enrichment or inexplicable wealth under the ICPC and EFCC Act. The laws require all Nigerians to justify or forfeit unexplained wealth. We, as a matter of fact, demand the EFCC and ICPC to carry out their mandatory duties by speedily investigating this massive fraud in line with Mr. President zero tolerance for corruption and financial crime.
To demonstrate your commitment, we urge you to urgently investigate this petition with a view to bringing whoever is found culpable to face trial. There is a duty to urgently investigate or ensure the investigation of Gomes of Sidmach Techno. Ltd (attached to Military Pension Board,Abuja) and take all steps to recover huge sums already siphoned from the MPB and still being siphoned on monthly basis by him and his cronies. Gomes, for now, seems untouchable and powerful, at least the person before him, one Festus didn't do up to this level before he was exposed.
It is, therefore, our prayer that Mr. Gomes adebowale would be investigated in relation with the fraud and the source of his questionable wealth and acquisition valued at over a Billion naira within a space of four years as ICT/ Programmer at Military Pension Board, Abuja. An immediate investigation will save MPB and the Federal Government of Nigeria further loss and a very big national embarrasment.
Yours faithfully,

MOHAMMMEDG NblesiNElsonngs
__________________ ________________
Mohammed Gambo Nelson Blessing
[email protected] [email protected]