U.S./Akwa Ibom To Cooperate On Economy, Culture, Others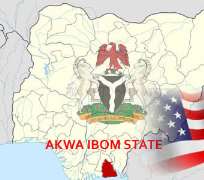 UYO, August 25, (THEWILL) - United States of America (U.S.) has pledged economic, cultural and educational cooperation with Akwa Ibom State, its ambassador to Nigeria, Terrence P. Mcculey has said.
Mcculey, accompanied by the consul-general in Lagos, Jeffrey J. Hawinks HWO stated this when he paid a courtesy call on Governor Godswill Akpabio at the Governor's Lodge, Uyo.
Mcculey stressed the need for partnership between US and Akwa Ibom, acknowledging that the state has enormous potentials for investment in education, economy and culture.
"'I have seen the future of Nigeria in Akwa Ibom; the infrastructures — roads, schools and power supply — are impressive," he said. "Indeed, Nigeria has impacted the geographical map of Africa. As a government, we consider Nigeria as a partner because of the bilateral relationship we have with the country."
He attributed the impressive improvements in the infrastructural development to the dynamism of the Governor, saying, "We want to be active here because the government is indeed active."
Welcoming the Ambassador, the new Consul-General and their entourage to the state, Akpabio said the visit spur lots of business investments in the country and the state.
"Akwa Ibom has an excellent relationship with the U.S. government, and there are lots of links between America and Akwa Ibom in terms of social and economic ties," he said, also commending the American government on the Fullbright Scholarship awarded to two lecturers of Akwa Ibom origin at the University of Uyo.