3 Friends Found Dead In Emir Son's House Ringim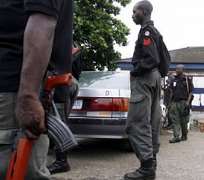 Tragedy struck in the Ringim Local government Area of Jigawa on Friday when three friends were found dead in a room. The dead friends were identified as Ali Tajo, Mustapha Murtala and Nasiru Shehu .
The three lived and died in a house, belonging to one of the sons of the Emir of Ringim, Alhaji Mahmoud Sayyadi.
Malam Magaji Tambura, a bricklayer working at the house, said that he came to the scene at about 7 am. to pick tools that he had used to work the previous day.
He said that when he knocked on the door, there was no response, making neighbours to force the door open to see the dead bodies of the three friends.
"My friend and I were at Syadi's house to take our working tools but on getting there, we met the door locked which is unusual at that hour.
"We met three of them lying down with their faces down and their mouth foaming and I immediately called their names but none of them responded," he said.
A resident of the area who gave his name as Ahmed Danlami, expressed shock over the tragedy that had befallen the town.
Danlami said the three friends must have inhaled generator fumes in the course of the night.
But another resident, Adamu Saleh, speculated that the dead young men must have abused drugs before they went to bed, saying that they were suspected to be drug addicts.
Saleh said that the matter was reported to the police and that the corpses had been taken to the hospital for medical examination.
When contacted, the PPRO of the Jigawa State Police Command, Malam Abdu Jinjiri, said that the police had been informed of the matter but that they were yet to get details from the Divisional Police Officer at the Ringim Local Government Area.
(NAN)