Wall Street Flat After Rally; Apple Biggest Company Ever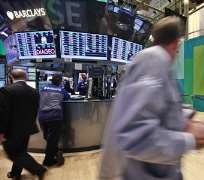 Stocks were flat on Monday on signs of fatigue after a six-week run of gains as the European Central Bank quelled speculation about the form of market intervention that may be taken to stem the region's debt crisis.
Despite the lethargic trading, Apple Inc (AAPL.O) shares hit a new high, becoming the most valuable public company of all time, with the combined value of its shares exceeding a previous record set by Microsoft. Shares closed up 2.6 percent to $665.15.
The S&P 500 remains close to a four-year high, rising nearly 5 percent in the past six weeks. Investors had been waiting for the ECB to take steps to control the euro crisis in September. Last week, the index broke away from the 1,400 level where it had stalled for much of August.
German magazine Der Spiegel said over the weekend the ECB is considering setting interest rate thresholds for any purchases of a struggling euro zone country's bonds. A bank spokesman said it was misleading to report on decisions that still had not been taken.
Germany's central bank, the Bundesbank, also reiterated its opposition to bond purchases. A spokesman for the German Finance Ministry said it was not aware of any plans for the ECB to target bond spreads.
The slight losses on U.S. exchanges compared with much steeper declines in Europe and a fall in the Shanghai index to its lowest level since 2009.
"Over there, the crisis is clearly much more real for them," said Ken Polcari, managing director at ICAP Equities in New York.
"For us, we are still sitting and waiting and people are almost numb to the headlines now so they are not going to make those quick reactions like they did - they are going to be much more patient," said Polcari.
Facebook Inc (FB.O) shares briefly fell more than 50 percent from its issue price to hit a new low of $18.75.
The Dow Jones industrial average .DJI shed 3.48 points, or 0.03 percent, to 13,271.72. The Standard & Poor's 500 Index .SPX dipped 0.07 points, or 0.00 percent, to 1,418.09. The Nasdaq Composite Index .IXIC lost 0.38 points, or 0.01 percent, to 3,076.21.
The healthcare sector was a bright spot after Aetna Inc (AET.N) said it would buy Coventry Health Care Inc (CVH.N) for $5.6 billion. The Morgan Stanley healthcare payor index .HMO climbed 1.6 percent.
Coventry shares jumped more than 20.3 percent to $42.04 after Aetna said it will pay $41.10 per share for the company, putting the deal at about a 20 percent premium to the stock's Friday closing price. The deal is the latest in a string of multibillion-dollar acquisitions in the U.S. healthcare sector.
Aetna shares rose 5.6 percent to $40.18.
Lowe's Cos Inc (LOW.N) slumped 5.8 percent to $26.26 after the company reported weaker-than-expected quarterly results and cut its profit outlook for the fiscal year as the world's second-largest home improvement chain lost market share to larger rival Home Depot Inc (HD.N).
Struggling retailer Best Buy Co Inc (BBY.N) said its founder, Richard Schulze, has turned down an offer from the board to conduct due diligence in connection with his proposal to take the company private at a valuation of more than $8 billion. The shares fell 7.9 percent to $18.67.
The global economic outlook is more uncertain now than at the start of the financial crisis in late 2008, Doug Oberhelman, chief executive of Caterpillar (CAT.N), the world's largest maker of construction equipment, said on Monday. Caterpillar's shares edged up 0.5 percent to $90.44.
Volume was weak in one of the lightest traded sessions of the year with about 4.83 billion shares traded on the New York Stock Exchange, NYSE Amex and Nasdaq, well below the daily average of 6.64 billion.
Declining stocks outnumbered advancing ones on the NYSE by 1,680 to 1,267, while on the Nasdaq, decliners beat advancers 1,432 to 999.
REUTERS