Youths Protest Oil Spill In Akwa Ibom; Mobil Ready For Clean-up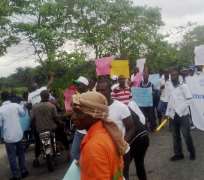 UYO, August 19, (THEWILL) - Hundreds of residents of Esit Eket Council in Akwa Ibom State at the weekend thronged the Qua Iboe Oil field operated by Mobil Producing Nigeria, an ExxonMobil subsidiary, to protest the recent oil spill in the area.
The protesters, who held placards and sang solidarity songs, were also at the local government secretariat in Uquo, Esit Eket, where they were prevented from gaining access into the premises by security men. However, their wait of several hours at the gate earned them the attention of the vice chairman, Mr. Enobong Asubo.
Edoho Paul, spokesman for the crowd, threatened that the youths would seek self-help should the council fail to prevail on ExxonMobil to assume full responsibility for the spill.
"It has come to our notice that the oil spill agency has ordered them to clean up the contaminated shoreline but for one week now nothing has happened," he said.
"If Mobil dares the regulator, it means that they are up to something; and we shall not allow them to get away with this. The pain that the spill has inflicted on the fishing population along the coastline is unimaginable. With the waters contaminated, you cannot have any reasonable catch; and even when you catch anything, the fish would be oil-contaminated and poisonous for consumption, so the reasonable thing to do is to leave the waters for a while."
He appealed to the Vice Chairman to use his influence to make Mobil retrace its steps by withdrawing its comments in the media it was unaware of the source of the spill.
Responding, Asubo promised to convey the message to chairman of the Council, Chief Ibanga Etang. He commended the peaceful approach of the youths to their grievances and urged them to remain law-abiding.
The clean-up of the Atlantic coastline in Akwa Ibom, contaminated by oil deposits, as ordered by National Oil Spills Detection and Response Agency (NOSDRA) has yet to begin, although Mobil Producing Nigeria (MPN) issued a statement on Sunday, pledging to cooperate with local authorities in the clean-up exercise.