Eid-El-Fitri: Jonathan Congratulates Muslims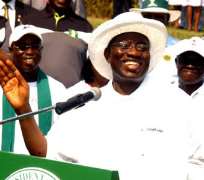 ...Reaffirms Commitment To National Unity
ABUJA, August 18, (THEWILL) – President Goodluck Jonathan on Saturday felicitated with Muslims on the occasion of the Eid-El-Fitri, urging them to display more commitment to peaceful coexistence with people of other faiths.
In a release signed by Dr. Reuben Abati, his special adviser on media and publicity, the president also reiterated the commitment of his administration to the unity and indivisibility of the country.
The full release reads:
On behalf of himself and the Federal Government of Nigeria, President Goodluck Ebele Jonathan congratulates all followers of the Islamic faith in the country who have successfully concluded this year's Ramadan fast.
President Jonathan rejoices with all Muslims in the country as Nigeria joins the rest of the world in celebrating Eid-El-Fitri which marks the end of the month-long annual fast.
He prays that Almighty Allah will grant them all the rewards promised to the faithful for the pious observance of its injunctions of piety, abstinence, self-discipline, constant prayer and charity.
Against the background of persisting challenges to unity, harmony and peaceful co-existence in the country, President Jonathan seizes the opportunity of the Eid-El-Fitri celebrations to reaffirm his administration's absolute and immutable commitment to the unity and indivisibility of the Nigerian nation.
The President assures all Nigerians once again that the imperatives of national unity, peace, harmony, collective development and progress will continue to inspire and motivate all policies and actions of his administration.
President Jonathan, who also observed the Ramadan fast in solidarity with Muslims in the country, applauds the exemplary leadership exhibited by Christian and Muslim leaders in the country who showed real commitment to peace and greater security for all by openly sharing the rigours and joys of the Ramadan with each other.
The President commends the efforts of these religious leaders to further promote national unity and peaceful co-existence by visibly reaching out to those of other faith in the true spirit of all who believe in One God.
President Jonathan urges all Nigerians to follow the laudable example of such religious leaders by showing more of a similar commitment and willingness to live peacefully with each other in spite of differences of tribe or religion. He wishes the entire nation a joyous and peaceful Eid-El-Fitri celebrations.