Police Affairs Minister Protests Recommended Scrapping Of Ministry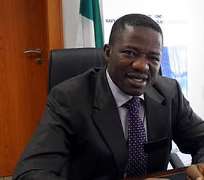 ...Says Committee Derailed
ABUJA, August 15, (THEWILL) - The Presidential Committee on the Reorganisation of the Nigeria Police chaired by retired assistant inspector general of police, Mr. Parry Osayande overstepped its brief of assignment, minister of police affairs, Navy Captain Caleb Olubolade (rtd) has said.
One of the recommendations of Osayande's committee, for which the federal government on Wednesday inaugurated a white-paper review committee, is the proscription of the ministry of police affairs, headed by Olubolade, because it usurps the powers of the inspector general of police (IGP).
President Goodluck Jonathan's white paper committee will be headed by attorney general of the federation and minister of justice, Mohammed Adoke.
Speaking on the recommendations, Olubolade claimed that the committee went beyond its brief of assignment, and also that proscription is unnecessary because the IGP makes input into the process of dispensing the budget while the ministry's sole responsibility is to approve payments for contracts awarded by the office of the IGP.
"Mr. President set up a committee, led by Parry Osayande, to reorganise the Police. That committee should not be confused with the earlier committee set up to reorganise and restructure ministries and parastatals.
"Somehow, it got into the limelight that the scrapping of the Ministry of Police Affairs was an issue. But the assignment given to that panel was to look at how the Police can be professionalised and reorganised. Usually, when an assignment like this is given, one must look at the subject. The subject is to reorganise the Police and any issue discussed outside that can be termed a derailment.
But he expressed optimism that the white paper to be produced by the committee inaugurated on Wednesday would help to address the matter very quickly.
"This committee will look at this report and advise the government accordingly; and I think it is nice to wait for the outcome of that. The issue of scrapping the Ministry of Police Affairs, if it is in the report, will be looked at. And if it is not part of the assignment given, that also will be seen," he said.
"I want to say categorically that it is very easy to look at the situation on ground. We have a Ministry of Defence. The Ministry of Defence exists, comprising the Army, Navy and Air Force. They all report to the Minister of Defence. All their budgetary provisions go through that line and the political head for them is the Minister of Defence. So also is the Ministry of Police Affairs."
Among the many highlights of the recommendations of Osayande's committee is its rejection of calls for state-controlled Police, which it described as a recipe for anarchy and eventual balkanisation of the country.