NBA Urges FG To Denounce Ogoni's Declaration Of Autonomy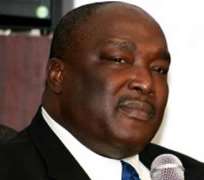 ABUJA, August 14, (THEWILL) - The Federal Government has been implored to denounce the declaration of political autonomy declared by the Movement for the Survival of the Ogoni People (MOSOP).
President of the Nigerian Bar Association (NBA), Chief Bodurin Daudu (SAN) gave the charge in Abuja, noting that declaration of political autonomy by any group in the country is alien to the constitution.
"Government should take steps to denounce it. [There is] no constitutional provision for state flag. The constitution does not allow it. Government should come out to denounce it. [There is] no right to self-determination under the constitution," he said.
"There is a difference between a state's adoption of jingles that extol its virtues of culture from an outright act of secession. Extolling the virtue of your state is not an anthem. That is permissible. It must be done within the ambit of Nigeria. Secessionism is illegal. Isolation and independence [are] not allowed."
Daudu also spoke on issues relating to the NBA, beginning from the planned protests by some members of the association against the high fees for qualification to participate at the conference. He warned such members to sit down in their houses instead of coming to Abuja to disrupt the conference.
Justifying the imposition of the fees, he argued that the association would rather charge high fees than go cap-in-hand to beg for funds.
As shown in the conference leaflets, lawyers with one to five years of experience at the bar would pay N20,000 while those with six to 10 years of experience will pay N30,000. Senior Advocates of Nigeria will pay N150, 000, judges will pay N75,000, and political office holders will pay N200,000.
Daudu's words: "We want to be independent. We don't want to be begging people for money. We should be able to speak on issues without fear and favour. But if you collect money from people you lack the legitimacy to criticise them.
"People should pay for what they benefit from. We attend conferences worldwide and we pay. Why should we not want to pay in Nigeria?
"Some branches have said that they would not attend. Don't come to the conference venue if you don't pay. We will not allow anybody to breach the peace. The best thing for them to do is to keep away. If you don't have tags, don't come near the conference. We need to ensure the safety of those who will be participating."
It would be recalled that MOSOP, led by its president/spokesperson, Dr. Goodluck Diigbo, declared political autonomy from Nigeria on 2nd August 2012, saying in a live broadcast on newly established radio station, Voice of Ogoni, that the Ogoni people were "determined to enforce the United Nations Declaration on Rights of Indigenous Peoples, without fear or retreat."