FG Inaugurates Committee To Unlock Private Sector Investment In Healthcare Delivery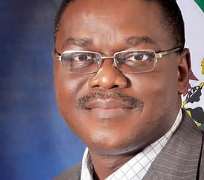 SAN FRANCISCO, August 14, (THEWILL) - The Honourable Minister of Health, Professor C.O. Onyebuchi Chukwu, today inaugurated the ministerial committee charged with the establishment of world-class tertiary healthcare institutions by 2015.
The committee is chaired by Mr. Tony O. Elumelu, MFR, Chairman of Heirs Holdings; a pan-African proprietary investment company with interests in healthcare, agriculture, energy, financial services, real estate and hospitality. Mr. Elumelu is also the Founder of The Tony Elumelu Foundation.
Other members of the committee, which comprises stakeholders from the entire value chain of the healthcare sector including high-flyers and achievers in the professional, investment and business circles are: Dr. Ebun Sonaiya – Chief Medical Director, Total Health Trust Limited, Dr. Ibrahim Wada – Chairman, Nisa Premier, Dr. Yemi Onabowale – CEO, Reddington Hospital, Prince Mike Chukwu – CEO, Assetswise Capital Dr. Adeniyi Ogunkoya – Sanford Heights Allergy Centre Dr. Folabi Ogunlesi – Vesta Health Care Partners UK Limited, Prof. I. Akinseye – Chairman, Pathcare Nigeria Limited, Mr. Ifeanyi Okoye – MD, Juhel Pharmaceuticals, Dr. Charles Cudjoe – President, Guild of Medical Directors, Dr. Anthony Omolola – President, Association of General Private Medical Practitioners, Mr. Andrew Alli – CEO, African Finance Corporation, Dr. Zainab Shinkafi-Bagudu – MD, MedicAid Radio, Diagnostics, Ms. Evelyn Oputu, MD, Bank of Industry, Mr. Wale Shonibare – MD/CEO, UBA Capital, Mrs. Clare Omatseye – MD, JNC International Limited, Dr. W. Balami – Director, Hospital Services, Federal Ministry of Health, Dr. O.R. Olowu, a Chief Medical Officer, Federal Ministry of Health- Secretary, Representatives of the Federal Ministries of Trade and Investment as well as Finance.
"This committee has been given the task of carrying out a critical analysis of the low private sector investment in high-end specialist hospitals and medical diagnostic centres in Nigeria, and creating a roadmap to unlocking and increasing entrepreneurship in the industry," said Professor Chukwu. "Mr. Tony O. Elumelu will bring to bear his drive, innovative thinking, and immense influence in global financial, investment and management circles," he added.
The Minister also tasked the committee with identifying potential industry investors, creating a guide for developing viable business models, and ensuring any entrants into the industry adhere to an accreditation scheme developed by the committee, in line with global best practices.
In responding to the appointment, Mr. Elumelu, whose Heirs Holdings, owns a healthcare subsidiary, Avon Medical Services Ltd, thanked President Goodluck Jonathan and the Minister for the opportunity. According to him this is another unique opportunity to contribute to national development and as such the committee will make a difference by coming up with implementable plans. "It is vital that government understands and dismantles the obstacles facing the private sector when it comes to attaining the standards of healthcare we know we can achieve. This committee will be dedicated to the rapid advancement of the sector and will be guided by the urgency for the country to be able to provide every citizen the access to the quality of healthcare needed to ensure economic growth and success."
Professor Chukwu added: "The establishment of private World Class Hospitals and Diagnostic Centres will not only satisfy the yearnings of Nigerians for such services but will indeed reverse the direction of the medical tourism to Nigeria's advantage which again is in line with the economic focus of President Goodluck Jonathan's Transformation Agenda of employment generation and wealth creation."