A FRIEND'S LETTER TO GOV. AKPABIO ON THE WANTON KILLINGS IN AKWA IBOM STATE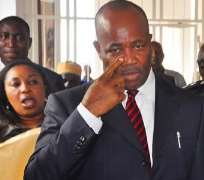 Dear Mr. Godswill Obot Akpabio,

Since you have persisted in pursuing to ruin, those who seek justice and fairness , let me tell you now of the inspiration of the Lord which Has given me courage to condemn your evil deeds and the insidiousness of your government and governance.
I am angry! Angry that an evil person would seek the life of the comparatively righteous!! Angry that a criminal would seek the incarceration of the innocent!!!
I received a telephone call today informing me that you, Godswill Obot Akpabio had instructed your foot soldiers and the Nigerian SSS to lay in wait for "two people" living in the United States "one in Oregon, the other in Dallas". What the caller did not know and you may just be finding out is that the information had found its way to us from members of your inner circle who had spilled it to others, who then had reported to us. We left you, your plots and plans then, into God's Hands for HIS judgment. I still do today.
It did not, and has not, and will not , stop me from calling out Godswill Obot Akpabio on his evil and corrupt deeds; UNTIL ALL THE MURDERS in Akwa Ibom State ARE ACCOUNTED FOR; UNTIL all the murderers are arrested tried, and jailed or executed according to the law; UNTIL all the stolen money from our treasury is returned by you; AND Mr. Godswill Obot Akpabio, you are the one to do the accounting - you are governor and chief security officer; AND you are the one who has directed the robbing of the treasury, dry. You should not pass the buck. The buck will not be passed because a few patriotic, honest and truthful citizens like me will and must keep it constantly in focus; AND before GOD. You have made Nigeriaan unjust society through bribes. You have bent the course of justice as no citizen except maybe James Ibori, has ever done.
I am one of those who will continue to keep your evil rule in focus before Almighty God; UNTIL HE answers; and Pays RETRIBUTION. Did he not instruct us - "Vengeance is mine, I will repay"? All we can do is continuously cry to him for JUSTICE to be done. AND HE will keep His Words!! And there is absolutely nothing that you can do about that.
Reflect on the following Biblical passage, Mr. Godswill Obot Akpabio; and prompt your foot soldiers to reflect upon the words too:
"The LORD will send on you curses, confusion and rebuke in everything you put your hand to, until you are destroyed and come to sudden ruin because of the evil you have done in forsaking him" - Deuteronomy 28:20
Many innocent lives have been robbed under your command ,Mr. Akpabio!!
What crimes did Mathias and Emmanuel Ekpenyong commit? What crime did Barrister Udonwa commit? What crimes did Justin Edet commit? What crimes did Mrs. Udonwa commit? What crime did Mrs. Efanga commit? What crime did Mr. Efanga commit? What crimes did the three brothers gunned down before their aged mother, commit? What crimes did Paul Inyang commit? What crimes did Faith Udo commit? What crimes did Edidem Robert James Obot commit? What crimes did the many Ibibio people murdered under your regime commit? Have you procured justice for them or for their orphans or for their widows or for their widowers? How many criminals - murderers and kidnappers- have you and your administration sprung from justice? How many times have you bribed off justice AGAINST the innocent? How many times have you cheated orphans, widows, and widowers? How many times have you stolen from the peoples' treasury? How many times have you rigged elections and how many were killed in the elections of 2011 and 2012, Mr. Godswill Obot Akpabio?
Of all the governors who have ever governed in our land, which one can be compared to Ahab? Remember that "Ahab son of Omri did more evil in the eyes of the LORD than any of those before him" Could Ahab's suit, tie and shoes fit you, Mr. Akpabio?
Here is what Ahab said to Elijah:
"So you have found me, my enemy!" "I have found you," he answered, "because you have sold yourself to do evil in the eyes of the LORD"
Well, Mr. Akpabio, under the present circumstances in our state, judge for yourself who is Ahab and who is Elijah!!! Did Elijah switch roles with Ahab? If there were no role switching, you cannot and will not succeed in your plans to incarcerate or to bring about the demise of the innocent who criticize your insidious and evil rule. Those criticizing the hooliganism of your administration are the Elijah of our modern days; and you are Ahab.
We know by now that the words of the Lord wash over you without meaning, but whether you heed HIS Words or not, the words cannot be rendered meaningless. As Macbeth found out that not all the perfumes in Arabia could wash his hands clean of the blood of the king, you will find out that all the money in the world cannot and will not bribe your way to freedom or bribe the innocent into jail or cause their demise at your hands or at the hands of your foot soldiers, because the sins which you have committed since becoming governor are before the Lord; AND will be kept in His presence by men like me until He rewards you according to your deeds. Why do you seek the incarceration of the innocent? Why do you seek the demise of truth speakers? Why do you lie against those who tell the truth about your regime?
I am here, AND will continue to be here to remind HIM daily of your sins and of your injustice and of your bribes and of your insidious governance, in the same manner that the widow bothered the judge for justice. AND justice, OVER YOU, I and many others will get in this lifetime. Your insidious rule may not come to an end when Almighty GOD seeks HIS vengeance for your evil deeds, for your unjust rule and for your corruption.
Hear this, and hear it clearly:
There will be no escape for Godswill Obot Akpabio from his evil deeds. For as long as the Lord is TRUTH, Godswill Obot Akpabio must, and will pay for all the blood spilled under his watch.
And let me hasten to remind you, once again, and your cultist gang of hoodlums,that I and the few others, who call out your evil deeds will visit you and members of your evil gang in prison, when you are incarcerated by the very forces which you have bribed to incarcerate the innocent. AND that we will see the graves of any, and all, who seek our demise!!!
OduduAbasi Nicolas Edet
DFW