ABUSES OF ORDINATION OF PRIESTS AND CONSECRATION OF BISHOPS (1)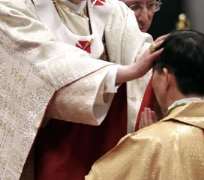 "If the Jewish Priests and their laws had been able to save us, why then did God need to send Christ as a priest with the rank of Melchizedek, instead of sending someone with the rank of Aaron, the same rank all other Priests had? And when God sends a new kind of Priest, his law must be changed to permit it. As we all know, Christ did belong to the priest-tribe of Judah, which had not been chosen for priesthood. Moses had never given them that work. So we can plainly see that God's method changed, for Christ, the new High Priest who came with the rank of Melchizedek, did not become a priest by meeting the old requirement of belonging to the tribe of Levi, but on the basis of power flowing from a life that cannot end. Yes, the old system of priesthood based on family lines was canceled because it didn't work. It is weak and useless for saving people. It never made anyone really right with God. But now we have a far better hope, for Christ makes us acceptable to God, and now we may draw near to him" (Heb. 7:11-19, TLB). "He has gathered us priest of God his Father. Give to him everlasting, glory! He rules forever! Amen"(Rev.1:6, TLB).
Jesus Christ is the model, pattern and embodiment of all truths of the Bible, God's word. Anything on the contrary is wrong as Isaiah 8:20 says: "Check these witches, words against the word of God! He says, "If their messages are different than mine, it is because I have not sent them; for they have no light or truth in them" (TLB). Jesus' Priesthood set aside the Aaronic priesthood with all its requirements, orders, rites and dressing. Hence to insist on Aaronic priesthood with all its requirements in the New Testament dispensation is unbiblical. There is nothing like ecclesiastical or Episcopal order in the Bible or New Testament dispensation. This is beautifully expressed in the writings of R.K Campbell in his book "The Church of the Living God" here reproduced.
"The common thought and current teaching in the church world is that one who would be a minister of Jesus Christ must first be educated in a religious school or college and then be ordained (which means appointed and invested with ministerial functions) by a human body of religious authorities. He is then an ordained minister, fully competent and dully authorized to carry on the work of sacred ministry in the Church. Without this formal ordination by man, one is not, according to general theological thinking, a full-fledged, authorized minister and cannot perform all the services of a dully recognized minister such as administering baptism and the Lord's super. Such is man's present day teaching, but "what saith the scripture?" is again our inquiry. What does God's Word teach on the subject? This should be our chief concern. It matters not what man says or thinks, be he ever so learned or authoritative".
"God ordains. In the Scriptures we find that there is an ordination by God spoken of which is most important. In discussing the subject of the preparation and training of God's servants, we have referred to Jeremiah 1:5, 16 to show that God marks out and calls His servants before they are born and prepare them from birth on. We would now quote these passages in connection with the subject of ordination. In 11 Timothy 1:12, Paul thanks God for putting him into the ministry and in 11 Timothy 1:8-11 he speaks of the salvation and calling in Christ and of the "the gospel: Whereunto I am appointed a preacher and an apostle, and a teacher of the Gentiles." So also in regard to the twelve apostles, Mark 3:14 tells us they were ordained, empowered, and sent forth by Lord Himself.
"Now these verses distinctly speak of ordination and appointment to the ministry by God Himself. Paul definitely tells us that the Gospel he preached and the ministry which was given him to teach was not after man or received from man, not even of the apostles who were before him. If, then, Paul was called and appointed of God and his ministry was not learned from the apostles who preceded him, how could they or anyone else ordain him? And why would he, or anyone else, need man's ordination and authorized when God, the highest authority, had called, appointed, gifted, and taught him? No Human Ordination. There was no human ordination or authorization in connection with Paul or any other prophet or preacher in Scripture either in the Old Testament or in the New Testament.
"Yea, Paul even says that when God called him, he conferred not with any human persons, neither went he up to Jerusalem to receive, as it were, the consent and authorization of the apostles there. Now the same principle which we see activating Paul and others in the book of Acts holds true today. God's ordination is supreme and sufficient. For if Christ has given one a gift to use for Him, and has called and ordained that one to His service, he is surely unfaithful if he goes to any body of men to ask their leave to use it, or fails to use it because man does not approve. The gift carried with it the responsibility to use it and the call of God entails obedience to Him. Of course, claims as to gift and calling readily discern whether one has a gift and is called of God or not and will encourage or discourage the claimant according.
"For the Church or any to ordain or appoint a teacher, pastor, or evangelist who is gifted of the Lord and empowered by the Holy Ghost to preach and teach Christ would be to set aside as insufficient the appointment and act of Christ. Surely it becomes the Church to recognize and accept Christ gifts; this is obedience to Him and not to do so is disobedience to Christ. The Church cannot give spiritual gifts, therefore it has no right to choose its ministers or ordain them. It does give material things and is entitled to choose its deacons and appoint those who are to take care of its funds and other business, but this is quite different from appointing ministers of the Word.
The Scriptures do speak of elders or bishops being ordained by the apostles Paul and Barnabas or by those who has a special commission from the apostle for this purpose, but never do we read of anyone being ordained of man to preach the Gospel or to teach or be pastor over a church. There is no such thought in Scripture; it is entirely of human invention. Elders and bishops (the same thing-see Titus 1:5-7) were appointed men holding office or local charges in the church and are never to be confused with gifts for ministry. Office and gift are quite different things. Elders and deacons and their offices will be before us later; our subject now is that of spiritual ministry and ministers." Not done, read next part 2. Have question you may call: 08033399821, or write: [email protected] Stay blessed.
Written By Dr. Lewis Akpogena
[email protected]

Disclaimer:

"The views/contents expressed in this article are the sole responsibility of

thewillnigeria.com

and do not necessarily reflect those of The Nigerian Voice. The Nigerian Voice will not be responsible or liable for any inaccurate or incorrect statements contained in this article."
Articles by thewillnigeria.com