Deeper Life Gun Attack: Death Toll Now 19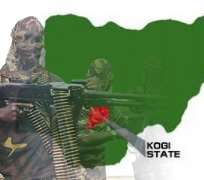 KOGI, August 07, (THEWILL) – At least 19 people have been confirmed to have died from Monday night's gun attack on worshippers at the Deeper Life Bible Church in Otite area of Okene in Kogi State.
Fifteen people had initially died on the spot and many others were injured after the gunmen seized control of the church entrance and indiscriminately fired bullets at the congregation.
One worshipper gave up the ghost on the way to the hospital in Lokoja while another three died on Tuesday.
"The attack ... was from unknown gunmen at the Deeper Life Church," said Lt. Col. Gabriel Olorunyomi, head of the joint military task force in the state. "They were doing their normal Monday evening service. When we went there, we discovered the church had been attacked. Instantly we saw 15 people dead, including the pastor."
Olorunyomi added that the Military had since received confirmation of the death of an additional four people from the serious injuries they sustained.
Equally, central region chief of the National Emergency Management Agency's, Ishaya Chonoko said rescue workers were at the site tending to several people who were injured in attack.
Simon Ile, spokesman of the Kogi State Police said the attackers were still unknown. "They entered the church…they just opened fire and they went away. We don't know their motives yet," he said.
But suspicion immediately falls on the Boko Haram Islamist sect, the terrorism group with a penchant for carrying out gun and bomb attacks predominantly against Christians, security operatives and government functionaries.