Obama's planned visit to Ghana, wake-up call to Nigeria – AC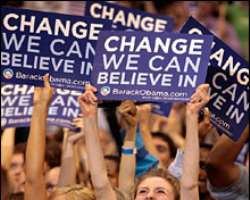 Nigeria's Action Congress party on Sunday challenged the leadership of the country to see the first visit by the United States President, Mr. Barack Obama, to Ghana as a wake-up call to get its acts together quickly or continue to lose its leadership position in Africa.
The party, in a statement issued in Lagos by its National Publicity Secretary, Alhaji Lai Mohammed, said there was no stronger indication of Nigeria's continued slide in global rating than Obama's choice of Ghana over Nigeria for his first visit to sub-Saharan Africa in July.
AC said, "The message should be clear to our leaders that it is not your population, the size of your territory, your richness in mineral resources or your claim to being a giant that the world is interested in.
"It is good governance, purposeful leadership arising from free and fair elections, zero-tolerance for corruption and continuous strengthening of democracy.
"While Ghana can pass the test of meeting these key requirements, Nigeria cannot. That is why Obama's plane will probably over fly Nigeria, for effect, before landing in Ghana. That's why Nigerian leaders will watch Obama's first trip to Africa on television, instead of being part of history."
The party said recent events in Nigeria have further diminished the country's rating, not minding what it called the chest-beating by Africa's self-acclaimed largest political party and its administration at the centre and other levels.
It said, "First is the war in the Niger Delta. Despite the promise made by President Umaru Yar'Adua, during his inaugural speech, to do everything within his power to resolve the lingering Niger Delta crisis, it has progressively gotten worse since he assumed office. Today, the slow-motion war has exploded into full-scale fighting. Is that an incentive for the world's most powerful leader to visit our shores?
"Secondly, the whole world watched recently as our Independent National Electoral Commission colluded with the security agencies and the ruling party to make a mess of a governorship rerun election in less than one third of one of the country's smallest states.
"Thirdly, our lack of seriousness as a nation has attracted the attention of global bodies. Despite having several years to prepare, Nigeria has yet to meet the simple requirements of preparing six venues for hosting the FIFA Under-17 World Cup, the least prestigious international competition on the FIFA schedule!"
However, the party expressed the belief that all hope was not lost for Nigeria, saying the country would regain its relevance when purposeful leaders wrest power from those it described as do-nothing pretenders.
Source The Punch, Nigeria