''Orungbeja'' will be premiered in UK—Olufemi Ogedegbe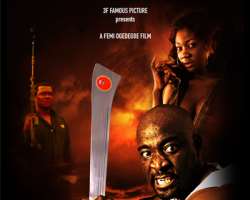 By Emmanuel Ajibulu
Olufemi Ogedegbe is an ace movie maker cum actor. He has hinged his achievements in the field of film production on hard work, deep research, audience appreciation, as well as story lines that reflect the true picture of societal ills and likely solutions, which over time has been demonstrated by him in all his literary works, and undoubtedly that has afforded him edge over his contemporaries.
In a chat with modernghana.com at LTV8 premises in Ikeja, Lagos, the multitalented artiste spoke about his new Yoruba film titled ''ORUNGBEJA'' with the literary meaning God vindicates. The movie features, Prince Jide Kosoko, Mercy Johnson, Lola Alao, Akin Olaiya, Kevin Ikeduba, Abija, Alapini, Ademola Rasaki (a.k.a Sokoti), Tayo Adeleye, Don Richard, Nike Pellar, Lepa Shandy, Femi Fadeyi, Dupe Ogundina etc.
According to him: ''ORUNGBEJA is a unique Yoruba film that I want everyone to look out for, irrespective of your tribe or nationality. It centres on an armed robbery gang who were terrorising a particular state. They killed an innocent man in the process; someone's father-in-law was falsely and wrongly accused and so on and so forth. It has a lot of suspense in it, the location, costumes and props are fantastic. My brother I spent well over E15,000.00 at least on account of what I can remember for now. The film will be premiered at ODEON in UK and the press release of this movie is coming up soon on a yacht at Marina, Lagos, Nigeria. I'll invite you too modernghana.com .''
He however, spoke about some of the challenges the movie industry is facing in Nigeria, pointing that government at all levels should come to their aide in movie production in Nigeria. He did not deter from urging other stakeholders like banks and investment institutions to come for the assistance of practitioners in the Nollywood circle, so as to guarantee audience satisfaction and optimum gains for the producers and the actors and actresses.
Femi was Born on October 3rd 1970 in Dangbala, Edo State of Nigeria, in the Akoko-Edo local government area, the prolific artist has over 130 movies to his credit among which the critically acclaimed Issakaba 1&2, GSM Connection, The Cat, Home Breakers and Final solution etc. The humble and decent Edo State (Nigeria) achiever has produced films in Tanzania, Uganda, and Kenya (East Africa) respectively. He got an award in Tanzania as an ambassador He urges his teeming fans to search for him on the famous social network, facebook to knowing more about him. He is the current National Provost Association of Movie Producers (AMP) in Nigeria, also National Vice-Chairman Task Force of the Actors' Guild of Nigeria.
[email protected]
+2348023660770
Emmanuel Ajibulu is the representative of modernghana.com in Nigeria with the mandate to cover newsworthy events particularly in entertainments and politics.