Nigeria will bounce back as giant of black nations— St. Paul Peters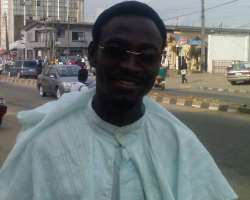 By Emmanuel Ajibulu
Today in Nigeria, the influx of many Nigerians into the call of gospel music is becoming glaringly impressive, and worthwhile, particularly for those with the genuine intention of winning souls for Christ, through persuasive use of lyrics and instrumentations in line with the dictates of the Holy Spirit. Meanwhile, there are some who are rather committing sacrilege through their purported gospel music; they pride in smoking, dining and wining at clubs and other questionable event centres. Some have even changed their natural complexion so as to suit the desire of the ''flesh'' and to impress their so-called fans. The name of God is sacred and as such should not be soiled with wreckless social life and moral decadence.
However, Nigeria has once again witnessed the emergence of a decent, multi-talented and spirit filled Nigerian gospel musician who doubles as prophet of God, and is presently doing great exploits in both music and his prophetic calling. No doubt, his background as ardent member of CHRIST APOSTOLIC CHURCH from childhood gave me an intimidating edge over his contemporaries, he recently launched his debut album in Lagos, Nigeria (20th May 2009) and the turnout was massive with huge attendance of prominent men of God, gospel musicians, marketers, promoters, family members, friends and reputable media practioners. St. Paul Peters who is gracefully and divinely endowed with tripartite values and distinctions (musician, prophet, and instrumentalist) often logs on to modernghana.com online services. In an uncommon sense of humility, he interacted extensively with modernghana.com and pledges his support and loyalty to modernghana just as he found time to respond to our questions:
Question: What informed this debut album to be titled ''Birds Sing Holy Song''?
Ans: There was a day like that, I was under a tree and I heard a bird singing, not in a dream or a vision, precisely under a tree, the bird was singing swapping its wings and it was gaining a lot of attention from me, and God interpreted that scenario to me that the bird was saying it could do perfectly what human beings could not do to Him, (God) through praises and thanksgiving. I was amazed. And I took up the challenge that for a bird to sing a holy song to God Almighty, what about me the image of God I should be able to do better, even better than the angels. That was what actually propelled me to come up with this initiative and I can tell you authoritatively that God is taking all the glory since the inception that divine inspiration.
Question: What was the experience like during the album lunch?
Ans: The outcome was awesome, a lot of people turned out, souls were won; you know that is the beauty of gospel ministration, people gave their lives to Christ, a lot of international connection surfaced during this launching. To the glory of God we recorded massive attendance from men of God, journalists, promoters etc. I must confess to you, I am blessing the name of God in the course of this album, this album is presently touching lives of those who listen to it, and it is delivering them from satanic shackles and bondages. As I speak to you people now use some of my tracks as rigging tone on their phones in Nigeria here and in the overseas.
Question: You are engaged in music and prophetic ministry, and your prophecies do come to pass, how have you been coping with this cumbersome tasks?
Ans: There was never a time when I experienced contradictions or interference between music and my prophetic ministry. Moreover, I started as a musician, later I got a divine call to go into prophetic ministry and to run the two simultaneously. Although there was a time I almost got affected but some men of God called me to order my father who said that was why I was born that I should run the two at the same time; and some other senior men of God intervened, they said that the two must go hand in hand. And to date there has been to hitches in running the two at the same time, they complement each other. It's a divine perfection all to the glory of God.
Question: It was rumoured that everyone in your household are into gospel ministry, can you put us in the true light?
Ans: It is absolutely true, not a rumour, my daddy Pastor Peter Agboola is a man of God a reverend gentle man, and also my mum, my elder brother is a prophet, Pastor Debo Agboola, my elder sister Mosunmola Agboola too she is also into gospel music ministry, all my younger sisters and brothers are actively involved one way or the other in everything that has to do with Christ. In my house if you are not singing you will preach or handle musical instrument. And for me too I handle most musical instruments because I went through thorough training before I started branding myself as musician. I preach, I make prophetic utterances, I pray etc. And when I minister through music people receive their sight, mad people gain their senses, honestly miracles happen, my brother I tell you, signs and wonders follow me I don't follow them.
Questions: As a Prophet what vision do you have for Nigeria especially in this moment of uncertainty?
Ans: I want to see all Nigerians under the same umbrella coming together worshipping the name of the living and Almighty God and that I believe will happen soon. And as we do that peace and the lost glory of Nigeria would be restored. Nigeria is coming back it will bounce back as the giant of all black nations. A day is going to come when Nigerians irrespective of our background, education, ethnicity, language or religion would come together under one voice in unity and the Lord will hear our voice. I have written a poem Ogidan at 49; the creative work explains the hard times the country is going through after 49 years of independence, but the poem concludes that in no time the hostilities would be over and the country will come back to its place of pride among the leading economies of the world. I will use this opportunity to appreciate some great men of God who have contributed immensely to the development of this country through their prayers and fasting. One of them is Arch Bishop O. Oyedepo President, World of Faith Bible Institute (a.k.a winners' chapel), Pastor Ade Oni, Pastor EHL Oluseye of Christ Apostolic Church, Pastor Enoch Adeboye General Overseer, Redeemed Christian Church of God, Pastor Peter Agboola etc.
St. Paul Peters can be contacted through the following links: [email protected] or +2347025413629, +2348052267303, +2348066721709 and +2348086117114.
[email protected]
Tel: +2348023660770