Jonathan To Facilitate Release Or Trial Of Nigerians In Tinidadian Prisons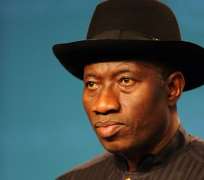 SAN FRANCISCO, August 01, (THEWILL) – Nigerian president, Goodluck Jonathan will be ironing out myriads of bilaterally important issues with the government of Trinidad and Tobago, including the release of Nigerians in Trinidadian prisons and the signing of an Air Services Agreement that will facilitate direct flight between the two countries.
Jonathan will also hold discussions with host Prime Minister Kamla Persad-Bissessar on the $21,000 bond levied against Nigerians as condition for obtaining visa to the Caribbean country.
Members of the Nigerian community in the Caribbean country, in an interaction with Jonathan, urged him to address the $21,000 bond, wondering why only Nigerians alone, of all Africans states, have to pay it.
"We want you to ask them what Nigerians have done differently or what is it that they are not doing that such a bond should be imposed on us, because citizens of Trinidad and Tabago live in Nigeria and they are not told to pay for any bond," a Nigerian said.
They also implored Jonathan to ensure the deportation or trial of Nigerians who have been held for close to three years in detention for immigration issues.
Earlier, the Nigerian High Commissioner to Trinidad and Tobago, Musa Jon Jen, said more than 30 Nigerian professors and 400 doctors and nurses are employed in the country, contributing positively to its growth and development.