Wall Street Flat As Unusual Trading Roils Shares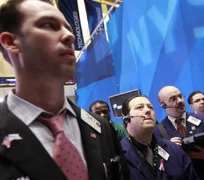 Stocks were barely changed on Wednesday as the market became consumed with unusual trading that roiled seemingly unrelated shares on the NYSE.
Coming into the day, the market's main concern was the Federal Reserve, which at the conclusion of a two-day meeting later in the afternoon is likely to show it is ready to act to support a weakening economy but stop short of aggressive measures for now.
Stock-market traders, however, soon appeared more concerned with unusually volatile trading in a number of shares listed on the New York Stock Exchange, which resulted in the halt of several stocks that appear to be unrelated.
"I think that has disrupted all the normal activities - stocks are moving all over the place, they are weird, they are trading like millions of shares, 100 shares at a time, so something went haywire somewhere," said Stephen Massocca, managing director, Wedbush Morgan in San Francisco.
The trading sparked unusual activity in stocks such as Molycorp (MCP.N), which had traded more than 5.7 million shares in the first 45 minutes of trading. The stock usually averages about 2.65 million shares daily, and it was one of the stocks halted due to excessive volatility.
"How do you draw any conclusions (on the market) when something like this goes on? You just don't know, so the market is not operating efficiently," said Massocca.
Other traders called by Reuters said the unusual trading issues were their primary focus.
The Dow Jones industrial average .DJI gained 22.78 points, or 0.18 percent, to 13,031.46. The Standard & Poor's 500 Index .SPX gained 1.79 points, or 0.13 percent, to 1,381.11. The Nasdaq Composite Index .IXIC gained 0.03 points, or 0.00 percent, to 2,939.55.
The Fed statement will come a day before a key meeting of the European Central Bank, after its president, Mario Draghi, heightened speculation of further ECB purchases of Italian and Spanish bonds by saying that he would do "whatever it takes to preserve the euro."
"We have the Fed today, the ECB tomorrow and everybody is waiting on central bank policy - right now the equity markets are being held together by easy money and if we don't get more of it soon we are likely to be disappointed," said Jack Ablin, chief investment officer, Harris Private Bank in Chicago.
"We are going to need a monetary booster shot both from Europe and the U.S. to keep this party going."
The S&P 500 posted its biggest two-day percentage gain of the year to close out last week on increased expectations both the Fed and the European Central Bank will plan further actions to stimulate their respective economies at the meetings this week. However, the index has stalled over the prior two sessions as it reached levels not seen since early May.
Data from payrolls processor Automatic Data Processing showed private employers added 163,000 jobs in July, topping economists' expectations for 120,000 new jobs. Investors may use the report to glean clues on the health of the labor market ahead of Friday's non-farm payrolls report.
Other major companies announcing results include Metlife (MET.N), Prudential Financial Inc (PRU.N) and Tesoro Corp (TSO.N).
REUTERS