Sovereign National Conference Impossible, Says Lawmaker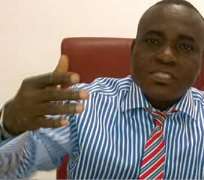 UYO, July 31, (THEWILL) – There is no possibility of convening the Sovereign National Conference (SNC) being clamoured for by some segments of the country unless the present constitution is amended to accommodate such, Senator Ita Solomon Enang, member representing Akwa Ibom North South in the National Assembly has said.
Enang was reacting to recent agitations by groups, particularly the Southern Elders and Leaders Forum, for a Sovereign National Conference, maintaining that such a conference has no legal backing and can, therefore, not hold unless an Act of the constitution is amended to accommodate it.
"Unless the National Assembly makes the law, by way of an Act to authorise the holding of a Sovereign National Conference, any conference or gathering of a people, which is not backed by the constitution or an Act of Parliament, is null and void or it is just a gathering for entertainment," he said.
"There can be no Sovereign National Conference without a law; and the only body recognized by law to hold a conference and to bring out results of the conference, which is capable of affecting the law or amending the constitution or restructuring the country either in terms of the country or revenue allocation or creation of states, local government areas, restructuring the Police and so on, is the National Assembly."
He laughed over the recent statement credited to the Southern Elders that the National Assembly does not represent the hundreds of ethnic nationalities in the country.
"There is no part of this country that was not a part of the voter's registration exercise, none that is not part of a local government area, village, ward, state or federal constituency or senatorial district in Nigeria; and so there is no part of Nigeria that is not represented in the National Assembly and in the State Houses of Assembly. So the Southern leaders could not have said so.
"There is no basis for Sovereign National Conference. Let us take our minds back to Justice Niki Tobi's political reforms years back. Is there anything that came out of that conference? Where are the resolutions [that were] reached? Where have they been implemented up to? Were they not bundled and brought to the National Assembly?
Discarding the idea of an SNC as "another voyage to no destination," Enang, who chairs the Senate Committee on Business and Rules, was full of optimism for the success of the latest effort to amend the constitution.