Atiku Condemns Fresh Violence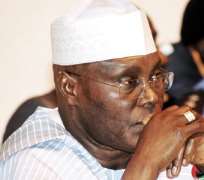 ABUJA, July 31, (THEWILL) - Erstwhile vice president and presidential aspirant, Alhaji Atiku Abubakar has condemned the latest resurgence of violence in the country, as usual questioning the rationale behind such mindless destruction of lives and properties.
Atiku particularly expressed worries that the attacks in Sokoto, Kano, Maiduguri, Zaria and Damaturu occurred in the sacred month of Ramadan, a period in which violence is forbidden by Allah.
He described the intensification of violence and attacks on holy places such as mosques and churches during the month of Ramadan or at any other time for that matter as absolutely indefensible.
"These attacks are contrary to the known teachings of Islam and other established religions, which place premium on the sanctity of life," read a release signed by his media office in Abuja.
"The latest attacks in Sokoto and the attempted assassination of the Shehu of Borno and the Borno State deputy governor were completely counter-productive to the interest of peace in the country."
He argued that since government has relaxed the state of emergency in violence-prone states in order to reduce the hardship of innocent Nigerians, the attackers should have taken advantage of the situation to embrace dialogue rather than foment more trouble.
Appealing to all the groups perpetrating violence to consider the sufferings of innocent Nigerians, he implored all "well-meaning leaders to join hands with the government in the quest to break the impasse and reverse the state of insecurity in the country."