Jonathan Commiserates With Ghana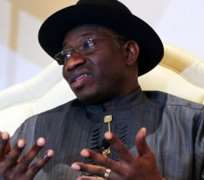 Abuja, July 31, (THEWILL) - President Goodluck Jonathan has recalled the shock and sadness he felt upon learning of the death of John Atta-Mills, who was president of Ghana until his demise last week at 68 after losing his discreet battle with cancer of the throat.
Jonathan was speaking to a five-man delegation from Ghana at State House, led by Hon. Alhaji Muhammad Mumuni, the minister of foreign affairs and regional integration. The delegation was in the country to deliver a special message from the new president of the West African nation, John Dramane Mahama.
"I was shocked and sad when I heard of the passing away of my brother, President John Atta-Mills," Jonathan said, promising that Nigeria would be adequately represented at the funeral by an official delegation. He also said Nigeria would properly convey its condolences before the burial.
Jonathan assured President Mahama of the country's continued support and cooperation, saying, "Nigeria will continue to work with Ghana. We will continue to consult on bilateral, regional, continental and global issues."
Earlier, Alhaji Muhammad Mumuni delivered a special message from President John Dramane Mahama, expressing gratitude for the concern and love of the Nigerian government and people to Ghana at its critical moment of sorrow.