EDO PEOPLE HAVE SET EXAMPLE FOR NIGERIANS - OYEGUN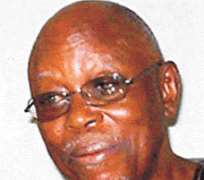 BY GABRIEL ENOGHOLASE
Chief John Odigie Oyegun, immediate past vice-presidential candidate of the All Nigeria Peoples Party, ANPP, one time governor of Edo State and a former Federal Permanent Secretary was a passionate supporter of Governor Adams Oshiomhhole in the recently held gubernatorial election in Edo State.
In this interview, Odigie-Oyegun reviews the election, analyzes the outcome and projects the trajectory of the Comrade Governor in the years ahead. Excerpts:
ON Oshiomhole's victory at the July 14, 2012 governorship election.
Let me register my own personal appreciation of the good work that the people of Edo state generally from the extreme North to the most Southern tip have done in returning Comrade Governor Adams Oshiomhole with such a massive majority, such that he won every single local government.
It was totally unprecedented; it has set an example for the rest of the nation that good governance must be rewarded and by the same token, the reverse that bad governance deserves to be punished.  Nigerians have been behaving totally out of sync with normal happenings all over the world. It is only in this country that we seem to perpetually reward bad governance.
Ethnic origin
But I think Edo State has finally set an example and the people of the state deserve congratulation for their discernment. Secondly, they also lay to rest this stupid, very banal utilization of ethnicity to win votes. Edo people have made it clear, very clear today that performance and a leader who remains with them, a leader who gives them hope is much, much important than the ethnic origin of such a leader.
Chief Oyegun
Once again, I hope the rest of the country is listening, they are hearing, they are observing, they are watching and hopefully will respond in like manner. The majority was massive; every single part of the state supported him and their expectations are extremely high. That was clear during the campaign and I saw it because I was with the Comrade Governor in a lot of places that he visited. There was no doubt at all about the electrifying effect of his presence at any campaign ground.
To cap it, immediately after the election results were announced, the entire state erupted visibly in one great, big celebration from the northern tip of the state to the very southernmost part, and in Benin-City, it was a carnival of sort in spite of the fact that the good Lord let loose a deluge of rain to indicate, yes, what had just happened has His blessing and was his doing.  Youths of Edo State turned out massively in the streets celebrating. God forbid, no one knows what would have happened if the professional riggers had succeeded in their old tricks again.
Expectations and Challenges in Oshiomhole's second term
It is true that he has not reached every community but when we went on campaign, you could hear the refrain of awareness of what is going on. Look at those beautiful schools that can compete with others anywhere in the world, look at the seats, one per pupil and the white boards and so on. Now we have to contend with that expectation.
The expectation of water has been raised all over the state; the modernization issue is all over the state. So, all one can say is that Edo people have shown how realistic they are and as our people would say, when a woman wants to sweep a room, she starts sweeping from one corner, she cannot start simultaneously from all corners at the same time.
On Oshiomhole's successor in 2016
Well, it is a long way to think of this thing, but you are right. One of the things that he will always have, I am sure at the back of his mind is who is available for the state. So, it is not about grooming a successor, it is a matter of grooming several possible successors and it is a kind of decision you make in the last minute out of these four, five or ten people who will then carry on from where he will leave off.
If you think of grooming a successor, you are setting up that person to be a target, everybody's target and they will be aiming punch shots at him. But I know he has the wisdom, to use his phrase, to 'eyemark' a good number of people who are credible possibilities and at the last minute and after consulting with his close advisers, let us know who the cap will fit.
Conduct of local government election
I can tell you one thing quite well; maybe I should not be the one saying it. I know this is already top of his agenda. He is already consulting on that issue. A decision hasn't been made, but I am aware that he is consulting.
Advice to INEC and political opponents
My advice to his political opponents is that they should learn to be good sportsmen.  There is no question at all that this has really been a very free and fair election except as usual, INEC had logistic problems which I sincerely hope they will attend to because if materials were late in city centres, in my voting point which is virtually within the city centre, we started one or one half hours late.
Considerable tension
These are things that need to be corrected especially in an atmosphere that existed in Edo State with considerable tension and fear of what the tricksters could be up to. I hope that they will attend to the logistic problems. And it could be worse because they were dealing with one state, one single election; not 36 states.
If they could not make or be ahead of time in one single state, then, they probably are not ready for a general election.
Also, my advice to the opponents and all those who have lost, is there is always another day. As we put it in our local parlance, 'he who fights and runs away, lives to fight another day'.
I hope they will take this and in fact, they will welcome the fact that the process of true democracy and free election has truly started in Edo state. That, all they need to do is to develop a programme, develop a case, and develop a way to present it to the public, sell themselves and they may do better next time around.