Aged Woman Killed In Suspected Boko Haram Attack On Police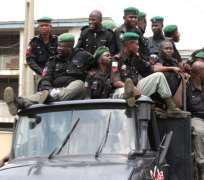 DAMATURU, July 30, (THEWILL) - Gunmen suspected to be adherents of the Boko Haram Islamist Sect in Damaturu, Yobe State, launched a failed attack on the Police on Monday but ended up killing an aged woman and injuring a boy.
The late woman was a cleaner at the Yobe State Police Force Headquarters, ambushed by suspected members of the sect while a vehicle was conveying its staff to their offices
"Our bus conveying workers to the office was, this morning, attacked by these Boko Haram boys around Gwange along Gashua Road," said Patrick Egbuniwe, Yobe State Police commissioner who confirmed the incident.
"The attackers just opened fire on the bus. It is unfortunate that the bullets hit the old woman who works as a cleaner with us and was sitting at the back of the car with one other small boy. They were immediately rushed to the hospital but the old woman was certified dead while the little boy was treated and discharged."
Assuring that the Police was trailing the criminals, he urged residents of the town to desist from shielding members of the sect from the Police.
"The problem we have here is that the people are hiding the boys who are committing these crimes. If only they were cooperating, we could have finished our job here since.
"The boys come out, attack the Police and disturb everybody's peace; and then go back to their neighbourhood yet nobody fishes them out but they know all the boys."
Monday's attack occurred around 8am when residents of the town were still preparing for work, forcing many to stay indoors. Commercial banks in Damaturu did not open and many civil servants absented themselves from work.