East-West Road May Not Be Ready By December 2014 - Orubebe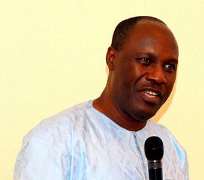 ABUJA, July 30, (THEWILL) – Six full years after its take-off, there is yet no end in sight for the audacious construction of the East-West Road, touted as the project to ultimately unfurl the region to the rest of the country.
With an estimated N193,855,828,511.04 still required to complete it, the Ministry of Niger Delta Affairs, which inherited the project in 2009 from the Ministry of Works, has voiced its fears for the likelihood of missing the December 2014 deadline set for its completion.
Its minister, Elder Godsday Orubebe, addressing a media briefing in Abuja on Monday, bemoaned the lack of funds to prosecute the project, revealing efforts of the Ministries of Niger Delta Affairs, Finance and Justice, and the Debt Management Office (DMO) to collaborate with financial institutions in raising money.
"I wish to recall that the total payment made by the Federal Ministry of Works from 2006 to 2009 is N33.4bn with 10 per cent completion at the time the project was handed over to the Ministry of Niger Delta Affairs," Orubebe said.
"To date, the Ministry of Niger Delta Affairs has paid N122.6bn and moved the average percentage completion to 51 per cent. The ministry will require N193,855,828,511.04 to complete the East–West Road by the new date of 2014."
Analysing the project and its prospect for completion by 31st December 2014, he disclosed that contractor was still being owed N8,572,143,549.2, in addition to N176,536,978,563.18 for cost of completion by the set time and N8,746,706,398.57 for retention to be paid in 2015.
"So, far out of the total 338km dual carriageway road, about 50km has been completed to asphaltic wearing course, 115km has been completed to asphaltic binder level while over 120km earthworks have been done. Also, out of the total 42 bridges, 34 have been substantially completed, including the second 850m Imo River Bridge.
"To complete the project by 2014, according to the programmes of work and cash flow projections for the four sections, the additional funds required in 2012 is N34,428,000,000.00, while funds required for 2013 will be N86,553,529,762.00 and funds finally required for 2014 will be N50,013,997,249.00."
Orubebe submitted that although N21.7bn from the Sure-P budget for the ministry is to expended on the project this year, it is "unlikely that these funds will be enough to complete the project by December 2014."