FG Eyes 50% Housing Increase By 2013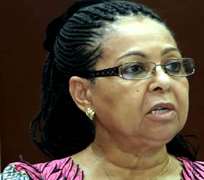 ABUJA, July 30, (THEWILL) - Access to quality and affordable housing will increase by 37 per cent — and it could hit 50 per cent — in 2013, the federal government has said.
Minister of Housing, Ms. Ama Pepple made the disclosure in Abuja on Monday in an interaction with State House correspondents after presenting the performance of her ministry's budget to President Goodluck Jonathan.
She expressed hope that the ministry could exceed the target to as much as 50 per cent, judging by iots recent progress.
It was also revealed that the federal government had approved N48bn for the Federal Ministry of Housing and Urban Development in the 2012 Budget, with 77.1 per cent for overhead cost already released just as the 16.6 per cent appropriated for capital.
Pepple described the provision of affordable housing as one of the very important performance indicators of her ministry, in addition to employment generation, development of professional and skilled persons in the housing sector, fixing of land efficiency, and provision of policy regulatory services.
She also disclosed that the ministry has allotted most of its lands in states to construction purposes and is already seeking fresh means of generating funding from the private sector.
"We are looking at the funding that we can generate from the private sector. Housing cannot be done alone; we need funding from the private sector. That is why we have held talks with the Ministry of Finance on this issue," she said.
"Many contracts will soon be awarded. We have done all the procurements, as soon as we get money, we will give them out to contractors. We are expecting the third-quarter funds soon. We are going to release some letters soon."
Access to good housing has been a big problem in important cities of the country, particularly in Lagos and in Abuja, which is reputed to be one of the fastest growing urban populations on the continent.