FG To Enact Law To Improve Patronage Of Indigenous Vessels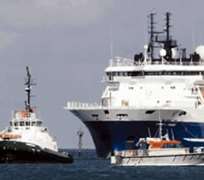 ABUJA, July 23, (THEWILL) - The federal government will draw up an executive bill, if that is what it will take, to compel international companies operating in the country to patronise indigenous vessel owners, it said on Monday.
Speaking with StateHouse correspondents at the close of the Presidential Retreat on Maritime Sector, minister of transport, Senator Idris Umar described the would-be bill as an executive effort to harnesspotentials in the maritime sector, currently being impeded by the multinational oil corporations who own vessels and would never patronise Nigerian firms.
"There are people who are complaining that they have acquired vessels and their vessels are not being patronised by the oil companies. Of course, we are going to look at this. If it is legislation, if it is a policy issue, we are going to look at it," he said.
"I, for one, don't support the idea that Nigerians, when they use their hard-earned money to acquire vessels, should be deprived patronage by the international oil companies. It is absolutely wrong, we have toem power our people — and that is the position of government."
Idris assured that government had put up an enabling environment for investors in the transport sector. He noted that the concession in the port would have been a total failure if the private sector was not fairing well under the present policy."All of them would have backed out of the agreement butthe government is living up to expectation," he said.
Also speaking, director-general of the Nigeria Maritime Administration Safety Agency (NIMASA), Patrick Ziakede Akpobolokemi, blamed the unsatisfactory performance of the agency on civil-service bureaucracy.
"The greatest challenge in the maritime sector is bureaucracy; it is alittle bit frustrating. Getting things done is frustrating. Maritimeadministration should be run as maritime administration," he lamented.
He expressed regrets that although the agency has arrested about 15 vessels involved in oilracketeering, it lacks the power to prosecute, and so plays no role in the prosecution of the criminals.
"I have presented an avalanche of arrests that have been made so far,some presented to the EFCC, some to the Navy to detain; and we areintensifying efforts to prosecute.In 30 days, we should curb thismenace with the backing of the political will."
He added that the agency had been determinedly deploying its men to all areas prone to oil theft, promising to deliver "a great blow" to those involved in the crime and "surprise everybody" by winning the battle.