Again, FG Disowns U.S. Designation Of Boko Haram As FTO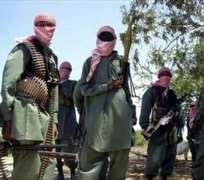 ABUJA, July 22, (THEWILL) - The Nigerian government has again expressed its displeasure with the decision of the U.S. government to brand the Boko Haram Islamist sect as Foreign Terrorist Organisation (FTO) or International Terrorist Organisation (ITO).
Permanent Secretary, Ministry of Foreign Affairs, Ambassador Martin Uhomoibhi told the Federal House of Representatives Committee on Foreign Affairs, chaired by Rep. Nnenna Elendu-Ukeje, in Abuja that the action was wrong.
According to a statement issued on Sunday by the clerk of the committee, Alhaji Mohammed Zakari, the permanent secretary made the position known during his appearance before the committee. He maintained that Boko Haram is a security challenge that the country has not experienced in 52 years of Independence.
Uhomoibhi said that he could not say what informed the US decision, as the opinion of the Nigerian government as well as the ministry's on the group was not sought by U.S. authorities.
"U.S. should have sought the opinion of Nigeria and not that of CAN or its leader. Nigeria is a secular country, so seeking the opinion of a religious group is wrong," he said.
Pastor Ayo Oritsejafor had, on 10th July addressed a US parliament of the House Sub-committee on Africa, Global Health, and Human Rights on the subject, U.S. Policy Toward Nigeria: West Africa's Troubled Titan," saying that Boko Haram is not only a northern problem but a Nigerian problem with global implications.
"Boko Haram has waged a systematic campaign of terror and violence. They seek an end to western influence and a removal of Christian presence in Nigeria. This is outright terrorism, not legitimate political activity or the airing of grievances," he said.
"To this end, by refusing to designate Boko Haram as a foreign terrorist organisation, the United States is sending a very clear message, not just to the Federal
Government of Nigeria but to the world, that the murder of innocent Christians and Muslims who reject Islamism — and I make a clear distinction here between Islam and Islamism — are acceptable losses."
He said it would be hypocritical for the United States and the international community to express belief in freedom and equality, when their actions do not support those who are being persecuted.
"A non-designation for the group only serves to hamper the cause of justice, and has emboldened Boko Haram to continue to strike out at those who are denied
equal protection under the law," Oritsejafor argued.
"The frequency, lethality and sophistication of Boko Haram's attacks raise disturbing questions regarding training and logistical support they have received from other like-minded international terrorist networks."
But Uhomoibhi told the committee that statements like Oritsejafor's are capable of subjecting Nigerians all over the world to rough scrutiny by U.S. agents and other international agencies.
"For us at the ministry, Boko Haram should not have been designated as ITO or FTO as Nigeria is a secular country and we are working with all other stakeholders to resolve this menace," he said.
Earlier, Rep Ukase had said the committee would want to know the official position of the government on the US designation of Boko Haram as either ITO or FTO. She said that though Nigeria is a multi-diverse and multi religious country, it was necessary for the ministry to clearly define its stance and the federal government's to the committee.