After 12 Years, IOC Awards Nigeria Sydney Olympics Gold Medal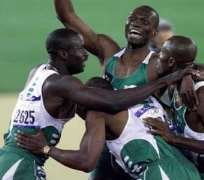 SAN FRANCISCO, July 22, (THEWILL) – Twelve years after the 4×400m relay event of the Sydney 2000 Olympic Games where Nigeria won Silver, the International Olympic Committee (IOC) has now officially awarded the country with the gold medal, after its Executive Board concluded the doping case involving one of the Americans who won gold in the race.
But it would be honour too late for the late Sunday Bada, the former technical director of the Athletics Federation of Nigeria (AFN) who, with Jude Monye, Clement Chukwu and Enefiok Udo-Ubong, ran the race for Nigeria. Bada died in December 2011, aged 42.
Nigeria's elevation to top place was also accompanied by that of Jamaica and Bahamas as winners of silver and bronze medals respectively.
A member of the American relay team, the late Antonio Pettigrew — he committed suicide in 2010 — had confessed to taking performance-enhancing drugs at the time of the games, consequently leading to the deposition of the U.S. as gold winners.
Before Pettigrew committed suicide in 2010, he had been disqualified in 2008 from the 4x400m race, and also from the 400m race where he finished seventh.
The IOC had delayed reallocating the medals, waiting to see if fresh information from ongoing investigations into an American doping scandal would throw up new dimensions to the matter.
The IOC similarly stripped American Crystal Cox of her gold medal, which she won for the 4×400m relay at the 2004 Athens Olympics.
Cox was banned for four years in 2010 for using performance-enhancing drugs, after the U.S. Anti-Doping Agency revealed that she used prohibited anabolic agents from 2001 to 2004.
The IOC board, however, passed up the chance to decide on other relay runners in the team, saying it was up to the International Association of Athletics Federations (IAAF) to decide if all the runners on the US team would be stripped of their medals.