Huhuonline.com vindicated as New York State Supreme Court indicts Senator Uzamere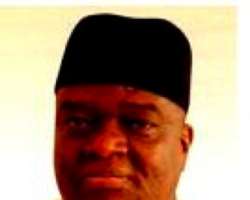 Consternation and shame are two words that best describe the current hoopla over Senator Godwin Ehigie Uzamere and his 28-year old siren daughter. Add this to the open tantrums of a scorned and estranged wife, Cheryl Uzamere, and you have an explosive toxic mix of scandals, betrayal, abandonment, and fraud perpetrated by the Senator and his lawyers in their desperate attempt to hide the truth.
All this is about to change as Senator Uzamere has been ordered to appear in court in New York to face charges of fraud and criminal conspiracy to defraud the United States Government in the substantive matter pitting him against his estranged wife and daughter. The New York State Supreme Court, on Tuesday May 12, 2009, rejected in its entirety, Senator Uzamere's motion to dismiss the case against him on the grounds that he was not the husband of Cheryl Uzamere (Plaintiff). The Senator was also found in default of failing to appear in court and has been ordered to personally appear in court for the trial whose date was set for July 7, 2009.
The decision and order delivered by Justice Jeffrey S. Sunshine established that the Senator's marriage to Cheryl Uzamere, his estranged and mentally-challenged wife was still valid. Cheryl Uzamere had formulated two main issues for the court to determine: whether her marriage to the Senator was still valid and whether the man she married was the person going by the name Senator Ehigie Uzamere. Although Senator Uzamere has not been formally served, Huhuonline.com learnt that he has already been informed through his office in Abuja, Nigeria.
The court decision and order, a copy of which was obtained exclusively by Huhuonline.com indicated that according to Justice Sunshine, Senator Ehigie Uzamere and Godwin Uzamere is one and the same person. Justice Sunshine has ordered that Senator Uzamere be served notice of the order for him to prepare his trial and to appear in court in New York, where he faces criminal charges of fraud and conspiracy and child abandonment and at least 25 years of child support payments with interest. Senator Uzamere is also facing punitive damages of a bowel-shattering $100,000,000.00 in alimony and other payments.
Senator Uzamere will likely face criminal prosecution over the issue of a fraudulent I-130 relative sponsorship petition form that he and his immigration attorneys allegedly falsified in December 17, 1979. (See copy attached). Based on the discovery of the falsified I-130, the recent discovery of the marriage affidavit you falsified, and other violations of U.S. law that were allegedly committed by Senator Uzamere, and others acting on his behalf, Cheryl D. Uzamere filed a new $100,000,000.00 lawsuit in federal district court. The case with docket number: 09-CV-3506 was dismissed by Judge Sands - but is now under appeal as Federal Court of Appeals docket number 09-1600-CV. Huhuonline.com has also learnt that Cheryl Uzamere intends to pursue her case against the Senator all the way to the US Supreme Court, possibly with a writ of certiorari in the wake of the I-130 which Senator Uzamere and his attorneys falsified to obtain a Green Card in 1979.
If the Solicitor General reviews her writ of certiorari, her case will certainly be remanded to the lower federal court, opening the way for possible indictments and prosecution of those involved in the fraud, including Senator Uzamere, who, will be added as a co-defendant. The long-running battle between Senator Uzamere and his estranged wife and daughter in the United States aptly reflects the maxim that: "the evil that men do live with them, not after them."
High Court of Justice Edo State Affidavit, August 08: (Senator Uzamere is not Godwin Uzamere)
New York Supreme Court Judgement May 12, 09.(Senator Ehigie Uzamere is Godwin Uzamere)
I-30 RELATIVE SPONSORSHIP FORM
|
Article source