WORLD TRIGGAR MAN - RUMBA STYLEE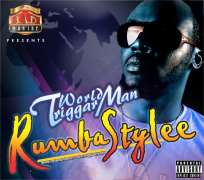 Dreadlocks, good looks and smooth talking is all that is best suited to describe the contemporary dancehall/reggae artiste that goes by the name TRIGGAR MAN.
Born Bob-Dave Omoaghe to a family of ten children, Triggar Man needed no extra-curricular guidance to nudge him ahead in his musical career than the one provided by his family. With every single member of his family blessed with the talent of music, Triggar Man found his footing firm in the musical world upon deciding to go professional in 2001 after his secondary education.
With a work-in-progress debut album, he has such sensational dancehall/raggae singles like "Rock Fi LIfe", "Follow Me" and "System" which though yet to hit the airwaves are sure reggae-ton flavours that would make all reggae pundits marvel with the smoothness of his patua lingo.
The Edo State raggae star has had the privileged of working with A-List producers in the industry (I.D Cabasa, J Sleek, UC Prof, Kris a.k.a Daddy X, Mo-Kris and Joe-Pee) and also done features with artistes that even if they are not hot now, they likely would be afterward (Oge, I'll Gynx and Guru). He hopes to spar withh such big names like 2face, M.I and Terry G in his forthcoming ten tracker album titled "Real Bad Man".
His smooth flowing dancehall/reggae single Rock Fi Life has a sparkling shot cameo/vidoe expression which was directed by none other than Mannequin Productions in South Africa. Inspired by such reggae icons llike Beenie Man, Movado, Sizzla, 2face Idibia and Rhymzo,
this dancehall/reggae wonder has had the honour of thrilling such mighty audiences as the ones present at MTN 2face & Friends Concert at the Millennium Park in Abuja and the 1 year in office anniversary of his state governor Adams Oshiomhole.
In the years to come he aspires to be among the great dancehall/reggae legends like Bob Marley, Lucky Dube, Bennie Man, Movado, Sizzla, 2face Idibia to mention a few. And hope to be in the front line of bringing a change in the Nigerian Music Industry in areas such as
credible and worthy record deals/labels for artistes and the stiff fight against piracy. Triggar Man likes to hang out with friends, clubbing and also unwinds playing lawn tennis and swimming. His driving force/philosophy in life is "Do your Best and have patience as a virtue".