Akwa Ibom State Governor beset by Corruption and Patronage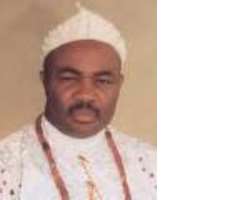 Critics of Akwa Ibom State Governor, Barrister Godswill Akpabio, who have described his mantra of transparency and accountability as a joke recently received extra ammunition from a very unlikely source; the United States embassy.
American Embassy officials, Huhuonline.com has learnt, contacted the EFCC in connection with a personal bank account statement presented for visa purposes by a brother cum aide to Governor Akpabio. The bank statement containing in excess of N 1billion was presented by Barrister Ibanga Akpabio who is also the Secretary of the ruling PDP in Akwa Ibom State. He was seeking a visa to travel to Houston, United States to attend the Baptism and naming ceremony of his new baby boy named David.
Barrister Ibanga, Huhuonline.com has also learnt from close family sources was living in Ikot Ekpene but has now relocated his family to the United States, where he has reportedly bought a house in Houston and frequents there. Neither the EFCC nor the ICPC has moved to question Governor Akpabio or his brother about his new-found wealth.
But observers see the disclosure, as a refreshing pail of water on the face of the feel-good hypocrisy unleashed by Governor Akpabio and his circle of sycophants, including his Information Commissioner, who, with the sure-footedness of an official Inquisitor, has launched a public relations offensive against the Governor's critics, describing them as "pens for hire" out to bring down the Governor.The Information Commissioner had through media advertorials lampooned critics of Akwa Ibom government, whom he defenestrated as "professional petition writers" and "Media Contractors in Lagos and Abuja," saying they are all "losers" out to stir rancor and confusion in the State.
But one of the Governor Akpabio "detractors" told Huhuonline.com that the Akwa Ibom State Government is merely engaged in the ostrich joke of hiding the head while the body is uncovered. He accused Governor Akpabio of short-changing the people of Akwa Ibom State with empty platitudes, while enriching himself and his small coterie of friends.
Among the long list of questionable procurement policies and corrupt practices by the Akwa Ibom State government, Huhuonline.com learnt that public contracts is one area where Governor Akpabio has thrown caution to the winds, engaging in reckless squandermania, doling out juicy contracts to his friends and family members, operating shell schemes and ghost companies. A couple of examples drive home the point.
Most notable is the cost of tarring a kilometer of road in the State. Whereas the Federal East-West road projects cost N650 million per kilometer of tarred road, in Akwa Ibom, the official cost is N1 Billion per kilometer. To which could be added the Ibom Tropicana Center which has been the cause of much controversy and anger. Eye-brows were raised when the cost of the Ibom Tropicana Center was given as N33 billion, whereas a similar project, the Abuja Water Parks Island – a private initiative – cost far below N7 billion.
v Governor Akpabio has yet to explain the circumstances under which the 2-km Cardinal Ekandem Road in Ikot Ekpene; originally awarded to an indigenous contractor – Tiken Nigeria Ltd by the previous administration for N217 million was cancelled and awarded to a Lebanese Company – Semco Nigeria Ltd at a whooping cost of N600 million.
The Governor has also been taken to task over the astronomical cost of airport construction in Akwa Ibom State, estimated at N47 billion, whereas similar construction in Delta and Anambra States costs N7 billion and N25 billion respectively. In another instance, a Government Housing project, initially estimated at N6.5 billion is now the subject of additional funding. Critics are pointing to the fact that the advertorials calling for bids states explicitly that contractors that have not handled contracts above N2 billion need not apply, thereby automatically excluding indigenous contractors.
The Governor is also accused of operating a network of ethnic-inspired clientelism with his close friends and family members fronting for foreign companies who are reportedly milking the state dry. Questions have been asked but the Akwa Ibom administration has yet to provide answers over the true ownership of companies such as Diamond Engineering Nigeria Ltd; Emem & Sons Nigeria Ltd and Sinoeng Nigeria Ltd.
Governor Akpabio is amongst those clamoring for the death penalty to kidnappers who demand bowel-shattering ransoms from their victims. Observers have been wondering why the Governor has kept mute over the amount of ransom he paid to kidnappers for the release of his home local government chairman.
In the face of all these criticisms, Governor Akpabio has remained unperturbed, dismissing the criticisms as the handiwork of detractors and his political opponents who are jealous of his success in the state of Akwa Ibom. His media blitz against the so-called "media contractors" raises more questions as to why a Governor who claims to have achieved so much for the State should be resorting to propaganda and sophistry to sell his record of accomplishments to the public.
Governor Akpabio's supporters blame his political opponents and accuse the media of biased and unfair treatment and of targeting the Governor's family, saying this amounted to a blow below the belt. Laughing off the accusation, one such critic told Huhuonline.com that the problem of Governor Akpabio is that he always wears his belt on his forehead so that wherever you hit him was below the belt! And his traducers appear only too eager to deliver killer punches below the belt. And it couldn't be otherwise for the head of a government with so many challenges!
|
Article source